22 Chinese aircraft cross Taiwan Strait median line ahead of military drills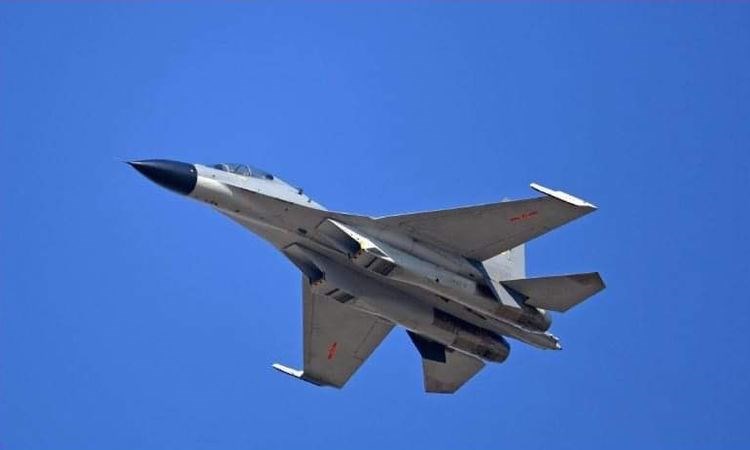 Taipei, Aug. 3 (CNA) A total of 27 Chinese military aircraft flew into Taiwan's air defense identification zone (ADIZ) on Wednesday, of which 22 crossed the median line of the Taiwan Strait, according to the Ministry of National Defense (MND).
The incursions took place a day before China's military is set to launch live-fire military drills in six maritime areas near Taiwan, widely seen as retaliation for a visit by U.S. House Speaker Nancy Pelosi to Taiwan.
MND data showed six Shenyang J-11 and 16 Sukhoi SU-30 fighter jets flew across the median line of the Taiwan Strait, while five J-16 jets flew into the southwestern part of Taiwan's ADIZ.
The Chinese military also sent 21 aircraft into Taiwan's southwestern ADIZ on Tuesday, when Pelosi was set to arrive in Taiwan.
On both occasions, Taiwan scrambled a combat air patrol, sent radio warnings, and deployed defense missile systems to track the Chinese military planes, MND said.
Taiwan's defense ministry has published information about such flights since Sept. 17, 2020, amid a rising number of intrusions into the nation's ADIZ by Chinese military planes.
The highest number of incursions reported this year was 39 on Jan. 23, followed by 30 on May 30 and 29 on June 21, MND data showed.
An ADIZ is an area declared by a country to allow it to identify, locate and control approaching foreign aircraft, it is not part of territorial airspace as defined by international law.
Update
Aug. 8: China's Yellow Sea drills won't affect Taiwan int'l flights: MOTC
Aug. 7: China sends 66 warplanes, 14 warships around Taiwan Sunday
Aug. 6: 20 Chinese warplanes, 14 warships deployed around Taiwan: MND
Aug. 6: U.S., Japan, Australia urge China to stop military drills
Aug. 6: Taiwan companies told to abide by China's labeling rule: MOEA
Aug. 5: 68 Chinese warplane, 13 warship sorties recorded around Taiwan: MND
Aug. 5: MOFA reports continued cyberattacks seeking to crash its website
Aug. 5: China's drills a 'new normal' aimed at changing status quo: Experts
Aug. 4: President Tsai calls China's live-fire drills 'irresponsible act'
Aug. 4: 22 Chinese aircraft cross Taiwan Strait median line as PLA launches military drills
Aug. 4: China fires 11 Dongfeng ballistic missiles into waters off Taiwan: MND
Aug. 4: China cannot stop world leaders from visiting Taiwan: Pelosi
Related News
Aug. 3: Taiwan one of world's freest societies: Pelosi 
Aug. 3: China's military exercises aimed at blockading Taiwan: defense ministry
Aug. 3: China imposes new trade restrictions on Taiwan as Pelosi visits
Aug. 3: Agencies gauge impact of new China import bans
Aug. 3: CrisisWatch sees higher risk of conflict over Taiwan due to Pelosi's visit
Aug. 3: American observers weigh pros and cons of Pelosi's visit to Taiwan
Aug. 2: Visit to honor 'unwavering' U.S. commitment to Taiwan: Pelosi
Aug. 2: Pelosi has the right to visit Taiwan: White House