Alternative air routes arranged, China drills impact limited: minister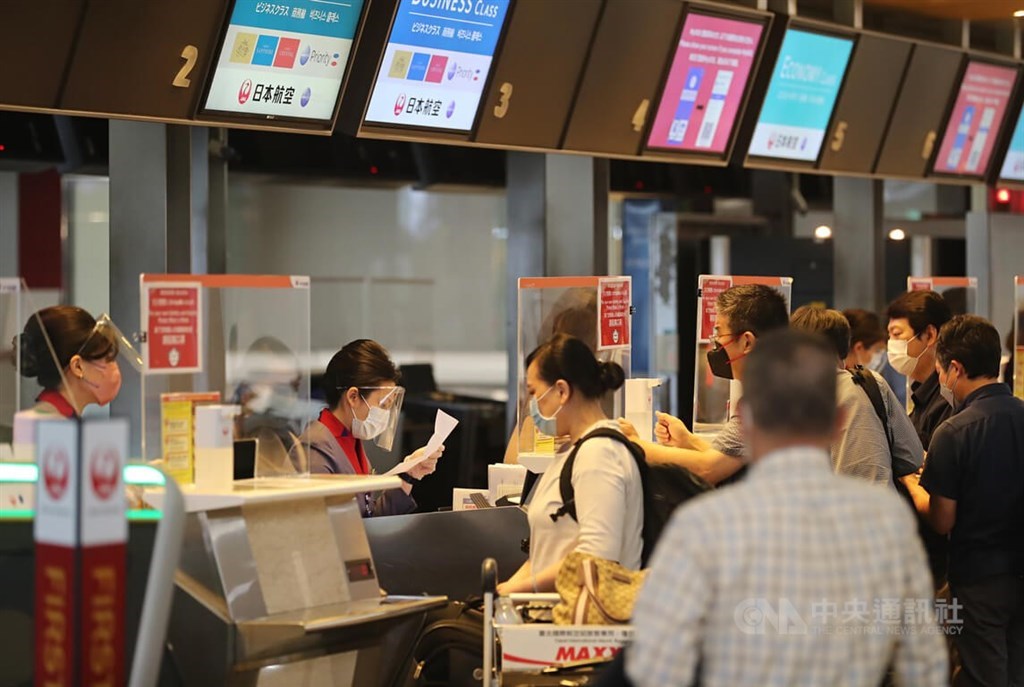 Taipei, Aug. 3 (CNA) The impact of China's upcoming live-fire drills on international flights in and out of Taiwan will be limited, as alternative routes have been worked out for departing and arriving carriers, Transportation and Communications Minister Wang Kwo-tsai (王國材) said Wednesday.
Alternative routes have been arranged for airlines flying on northbound and southbound international routes after negotiations with Japanese and Philippine authorities, at a time when China is set to conduct live-fire military drills in six maritime areas near Taiwan from Aug. 4-7, Wang said at a news conference hosted by the Executive Yuan.
Although 18 international routes were initially thought to be affected, he said the actual impact has been minimized by securing alternate routes, though those flights will take longer.
No domestic flights will be impacted by the Chinese military exercises, he said.
Under the arrangements, northbound carriers flying to or coming from destinations in North America and Northeast Asia can pass through the Fukuoka Flight Information Region (FIR), while those flying on southward routes can use the Philippine FIR, according to Wang.
No flights bound for Hong Kong or Macau will be affected, and some flights to China will need to detour through Kong Kong, he said.
In terms of marine transport, there will be no impact as there are no fixed shipping lanes in the open sea, he said, noting that the Maritime and Port Bureau has published a notice urging ships to avoid the six areas where China's military will conduct drills, while asking vessels to avoid Keelung, Su'ao, Taipei, Kaohsiung, Anping, Hualien and Heping ports to ensure their safety.
As of press time, neither Taiwan-based airlines nor shipping companies registered in Taiwan have applied to cancel trips, while foreign-based aviation companies, such as Cathay Pacific Airways and Singapore Airlines, have not cancelled any flights either, according to Wang and Taiwan International Ports Corp.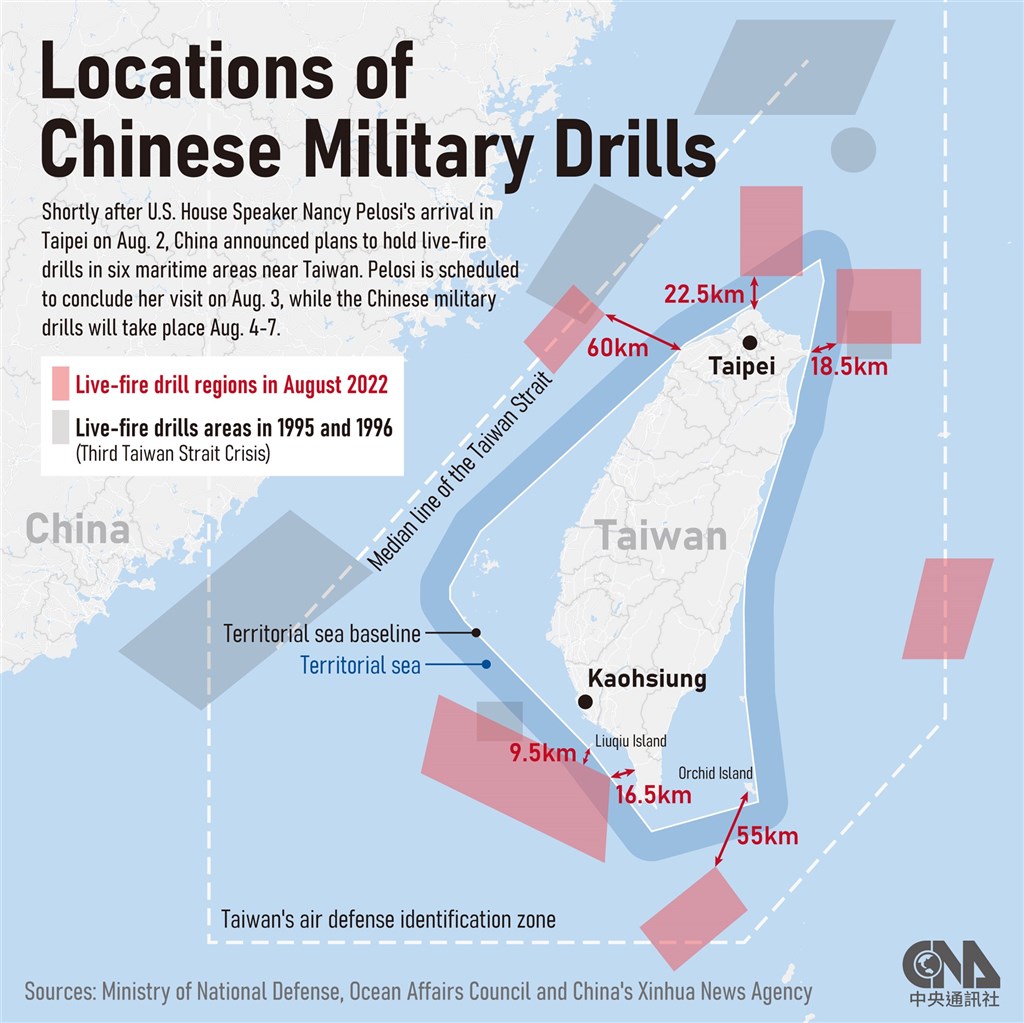 However, Taiwanese fishermen are concerned about the possible fallout from China's military exercises and are postponing operations.
Tsai Pao-hsing (蔡寶興), manager of the Liuqiu fishermen's association in southern Taiwan's Pingtung County, told CNA they are extremely uneasy about the situation, fearing Chinese military drills could become the norm in waters around Taiwan.
Meanwhile, a Liuqiu fisherman surnamed Hung (洪), said he had planned to fish in waters off Hualien in eastern Taiwan from Aug. 5-6.
Although that area will not be directly affected by Chinese military drills, Hung said he will now wait until after Aug. 8.
Update
Aug. 8: China's Yellow Sea drills won't affect Taiwan int'l flights: MOTC
Aug. 7: China sends 66 warplanes, 14 warships around Taiwan Sunday
Aug. 6: 20 Chinese warplanes, 14 warships deployed around Taiwan: MND
Aug. 6: U.S., Japan, Australia urge China to stop military drills
Aug. 6: Taiwan companies told to abide by China's labeling rule: MOEA
Aug. 5: 68 Chinese warplane, 13 warship sorties recorded around Taiwan: MND
Aug. 5: International flights avoiding Taipei FIR due to China drills: Official
Aug. 5: China's drills a 'new normal' aimed at changing status quo: Experts
Aug. 4: President Tsai calls China's live-fire drills 'irresponsible act'
Aug. 4: 22 Chinese aircraft cross Taiwan Strait median line as PLA launches military drills
Aug. 4: China fires 11 Dongfeng ballistic missiles into waters off Taiwan: MND
Related News
Aug. 3: Taiwan one of world's freest societies: Pelosi 
Aug. 3: 22 Chinese aircraft cross Taiwan Strait median line ahead of military drills
Aug. 3: China's military exercises aimed at blockading Taiwan: defense ministry
Aug. 3: China imposes new trade restrictions on Taiwan as Pelosi visits
Aug. 3: Agencies gauge impact of new China import bans
Aug. 3: CrisisWatch sees higher risk of conflict over Taiwan due to Pelosi's visit
Aug. 3: American observers weigh pros and cons of Pelosi's visit to Taiwan
Aug. 2: Visit to honor 'unwavering' U.S. commitment to Taiwan: Pelosi