U.S. should 'move away' from strategic ambiguity: ex-Pentagon chief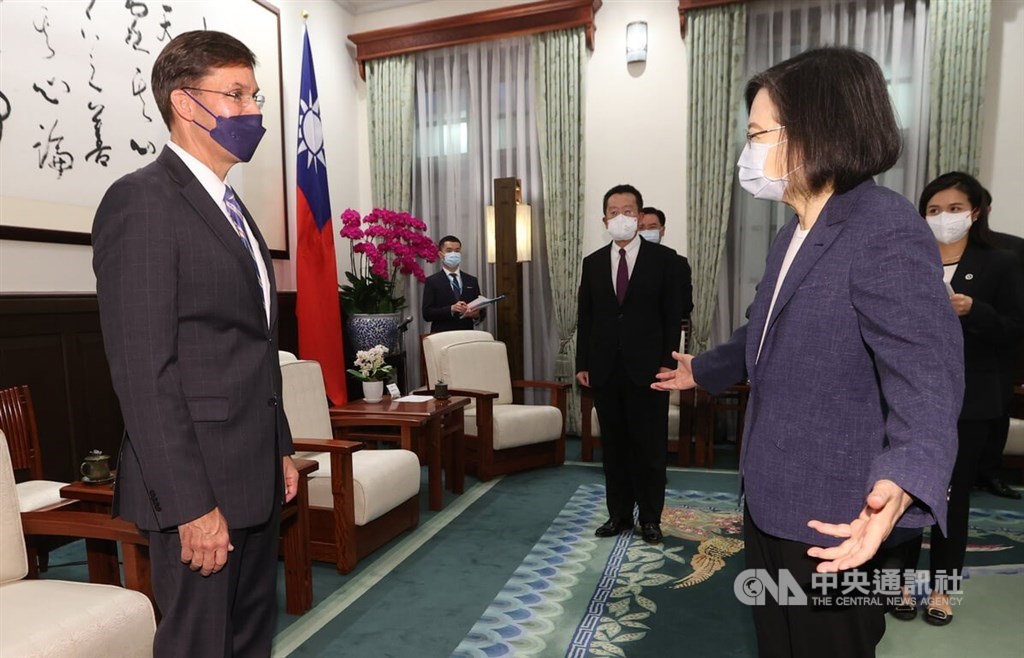 Taipei, July 19 (CNA) Former U.S. Secretary of Defense Mark Esper told President Tsai Ing-wen (蔡英文) Tuesday that Washington should "move away" from its long-standing policy of strategic ambiguity toward Taiwan.
"It is my personal view that the [U.S.] One China policy has outlived its usefulness; that it is time to move away from strategic ambiguity," Esper said during a meeting with Taiwan's leader in Taipei, referring to the long-standing policy which allows Washington to remain vague about any possible response in the event China attacks Taiwan.
Esper, who currently serves on the board of directors of the Atlantic Council, a Washington D.C.-based think tank, said he thought it is "important that we begin that national discussion back in the United States."
At the same time, Esper encouraged Taiwan's government to make "bold decisions" to show the American public and Washington's leaders that Taiwan's people were "fully committed to standing up to Communist China and defending themselves."
According to Esper, who joined the board of defense firm Epirus in May 2021, this would include significantly increasing defense spending, adopting asymmetric warfare, lengthening conscription, and improving reserve mobilization.
Esper described China as "the greatest challenge" facing the world's democracies, saying that Beijing's continuous challenging of the rule-based international order threatened freedom-loving people throughout Asia.
As the world enters the era of great power competition, Taiwan is at the frontline of this "epic contest," according to Esper, who served as secretary of defense from June 2019 until November 2020 under former U.S. President Donald Trump.
"The mere existence of a thriving democracy with a robust economy, and of freedom-loving people is anathema to everything the Chinese Communist Party believes," he said, adding that it was important for the democracies of the West to support Taiwan.
Meanwhile, Tsai told Esper that in the face of such global challenges as the expansion of authoritarianism and Russia's invasion of Ukraine, democratic partners must bolster the string of their alliances to jointly defend their shared values.
Taiwan will continue to strengthen cooperation with U.S., Europe, and other democratic partners to contribute to the peace and prosperity of the Indo-pacific region, she added.
"In terms of advancing economic and trade cooperation among the global community of democracies, Taiwan is willing and will play an even more active role," Tsai said, adding that the country looked forward to deepening its trade and economic links with the U.S. and European nations.
Esper, who is leading a delegation from the Atlantic Council, arrived in Taipei on Monday for a four-day visit that will include discussions with Taiwanese government officials and politicians about trade, economic, diplomatic, and security issues.
He is joined by Barry Pavel, senior vice president and director of the Atlantic Council, and Stefano Stefanini, former permanent representative of Italy to NATO and currently a nonresident senior fellow at the think tank.
The delegation also met with Eric Chu (朱立倫), chairman of Taiwan's main opposition Kuomintang (KMT), on Monday evening to exchange views about Taiwan's national defense policy, regional situations as well as Taiwan-U.S. relations, according to the KMT.