Swedish parliamentary delegation arrives in Taiwan, to meet Tsai virtually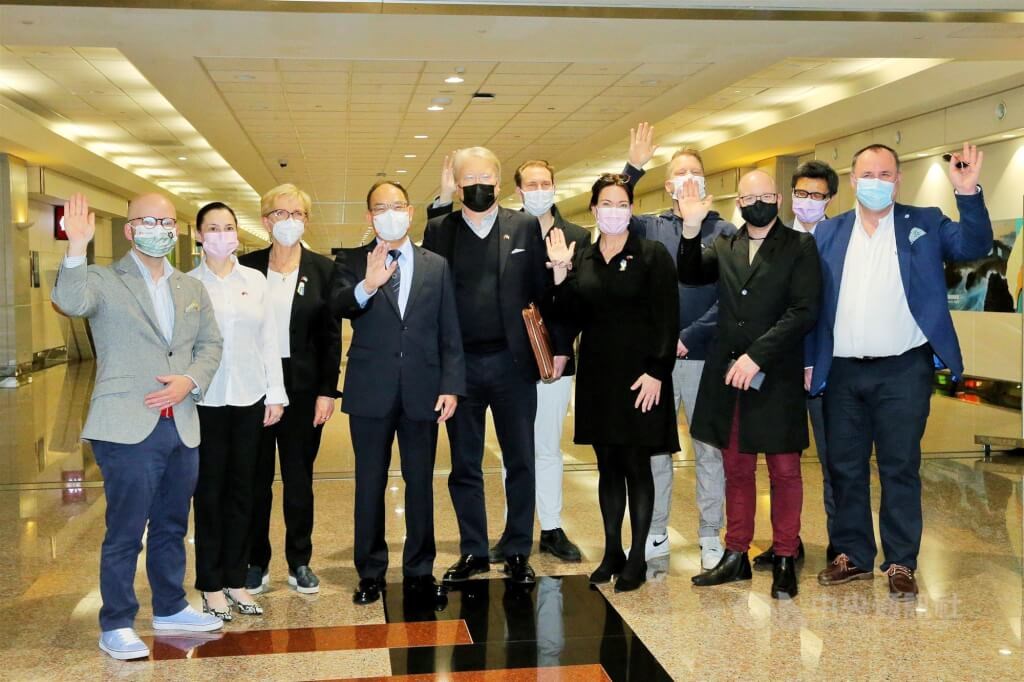 Taipei, April 10 (CNA) A Swedish parliamentary delegation arrived in Taiwan on Sunday for a five-day visit, the Ministry of Foreign Affairs (MOFA) said.
The 11-member delegation, led by Boriana Åberg, head of the Swedish-Taiwanese parliamentarian friendship group, and Charlie Weimers, a member of the European Parliament, touched down at Taoyuan International Airport around 5:23 p.m.
The group, which aims to enhance relations between Taiwan and Sweden, was welcomed by Taiwan's Deputy Foreign Minister Harry Tseng (曾厚仁) upon arrival. The group waved hands and greeted awaiting media members but did not make a public statement before leaving the airport.
The delegation was originally set to meet with President Tsai Ing-wen (蔡英文) at the Presidential Office on Tuesday.
The scheduled meeting, however, will be taking place virtually instead because Tsai is currently on home quarantine since late Friday after a person she previously dined with later tested positive for COVID-19, according to her spokesperson.
Vice President Lai Ching-te (賴清德), meanwhile, will receive the Swedish visitors in the Presidential Office later Tuesday on behalf of Tsai, Presidential Office spokesperson Xavier Chang (張惇涵) said.
According to Chang, one of Tsai's relatives with whom she had lunch at the presidential residence on April 4 felt unwell Friday and was later confirmed to have contracted COVID-19, leading to Tsai's home isolation, which will last until April 14.
Tsai is in good health, and the rapid antigen and polymerase chain reaction (PCR) test taken by the president early Sunday came back negative, Chang added.
During their visit, the delegation is also scheduled to meet Premier Su Tseng-chang (蘇貞昌), Legislative speaker You Si-kun (游錫堃), Foreign Minister Joseph Wu (吳釗燮), and other senior government officials.
The delegation will also hold a seminar with a local defense security think tank, and meet Swedish business and student representatives, as well as other expatriates in Taiwan, according to MOFA.
Other members of the delegation include Kerstin Lundgren, deputy speaker of the Swedish Parliament, and Swedish parliamentarians Björn Söder, Lars Adaktusson, Markus Wiechel, Ann-Sofie Alm, Lars Püss, and Alexander Christiansson, among others, MOFA said.