Professor investigated for pressuring Taiwan student over nationality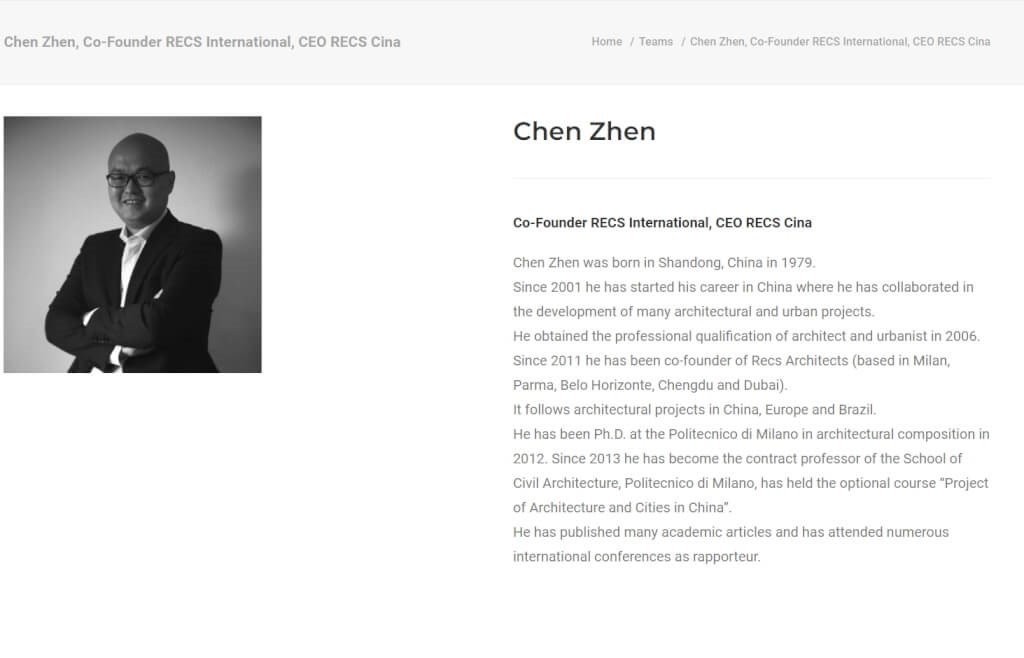 Taipei, March 31 (CNA) A Chinese professor at the Polytechnic University of Milan has been placed under investigation after a widely-circulated video showed him pressuring a student to change the place of origin on his thesis from "Taiwan" to "China."
In the video, Chen Zhen (陳蓁), a professor in the university's architecture department, is seen interrupting a virtual meeting with several students to directly address the one Taiwanese in the group, surnamed Wang (王).
Switching to Chinese, Chen expressed his dissatisfaction that on Wang's thesis template, he had listed his country as "Taiwan," before telling him that Taiwan "is not a country" and is not recognized by the European Union.
"When I see you write (your nationality) that way, as a Chinese person I have to say something ... I hope you won't think I'm using my position as a teacher to bully you," he said, adding that he was just trying to have a "dialogue" and that the issue would not affect Wang's thesis or grades.
After learning of the video on March 25, Taiwan's representative office in Italy said it immediately contacted the university's rector, Ferruccio Resta, as well as the head of the department of architecture to protest the student's treatment.
On Monday, Resta responded that the university's disciplinary committee had opened an investigation into the incident to determine whether Chen's actions had violated the school's code of ethics and conduct.
Incidentally, the video was originally posted by Chen himself to the Chinese app WeChat on March 18, along with pictures showing how the student had changed his country of origin to "China" as a result of the professor's "communication."
However, it only began to draw attention after it was posted to Twitter on March 24 by Wu Lebao (吳樂寶), a Chinese dissident who has received asylum in Australia.
In addition to landing Chen in hot water at his university, the video -- which had been viewed over 450,000 times as of Thursday -- has drawn condemnation from across the political spectrum in Italy.
"The Polytechnic of Milan should suspend this teacher who assaults and bullies a Taiwanese student by imposing on him a geopolitical lesson with the worst language of Chinese propaganda," tweeted Gianni Vernetti, a former senator and deputy minister from the center-left Democratic Party.
Lucio Malan, a senator from the far-right Brothers of Italy party, accused Chen of trying to "re-educate" the Taiwanese student, adding that he would demand an explanation from the relevant government minister.
On Monday, meanwhile, Milan's il Giornale newspaper published an editorial titled "And in Italy it is now Forbidden to Declare Oneself from Taiwan," which accused Chen of violating the Taiwanese student's human and civil rights.
In the article, author Alberto Giannoni notes that despite Taiwan's "delicate" international situation, it is for all practical purposes a sovereign state, maintains close commercial and unofficial diplomatic ties with many nations, and is recognized by the Vatican City State.
Taiwan's Ministry of Foreign Affairs issued a statement Thursday condemning Chen's actions as an abuse of power, and said it had asked its representative office in Italy to closely follow the investigation into the incident.