Protest continues outside Russian representative office in Taipei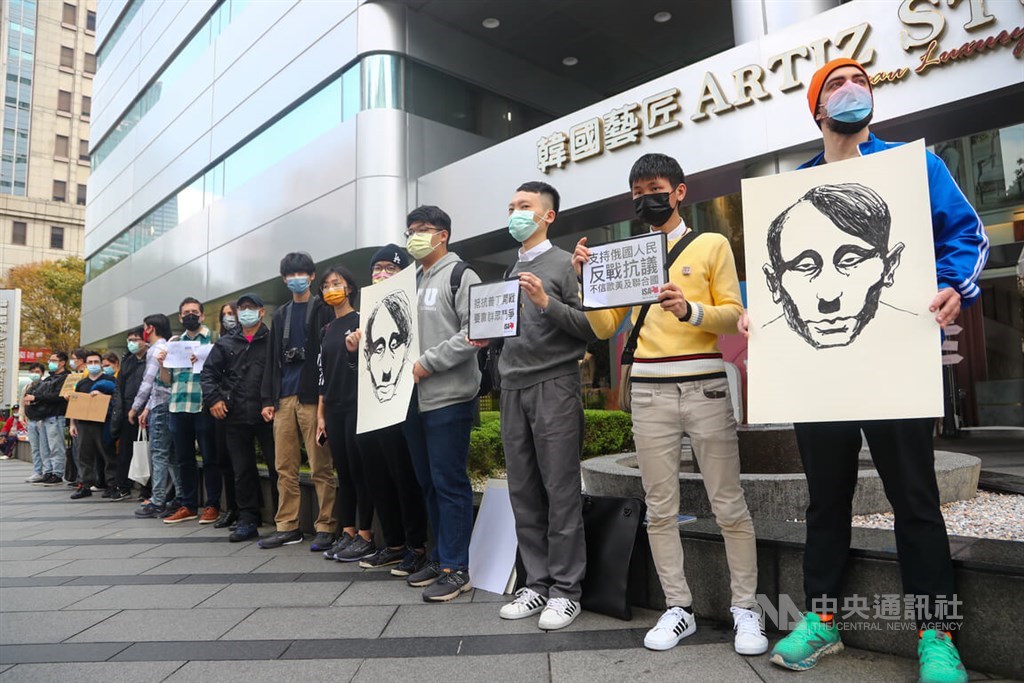 Taipei, Feb. 26 (CNA) Close to 200 people held a rally outside the Russian representative office in downtown Taipei on Saturday, urging the international community to stand with Ukraine and step up their efforts to make Russia call off its invasion.
Following a protest on Friday at the same location, the group of around 200 people, made up of mainly Europeans and Taiwanese, held a second day of protests outside the Representative Office in Taipei for the Moscow-Taipei Coordination Commission on Economic and Cultural Cooperation.
Russian artist Evgeny Bondarenko displayed drawings of a person resembling both Adolf Hitler and Russian President Vladimir Putin and called for the war to stop.
"I feel violated, because I am Russian, I have Russian passport, I am born in Russia with Russian family and Russian friends. But I also have a lot of friends in Ukraine, and I respect and love Ukrainian people," Bondarenko said.
Describing Ukrainians as amazing people, he said Russia started attacking Ukraine without asking the permission of the Russian people and just assumed they were in agreement.
"I say sorry, but you cannot do it like this and just say Russian people agree with this war. You can't," Bondarenko said.
He said he left Russia because of its policies and traveled the world before coming to Taiwan about five years ago.
"My first time in Taiwan, I started to realize what is freedom," said Bondarenko, who is now married to a Taiwanese woman.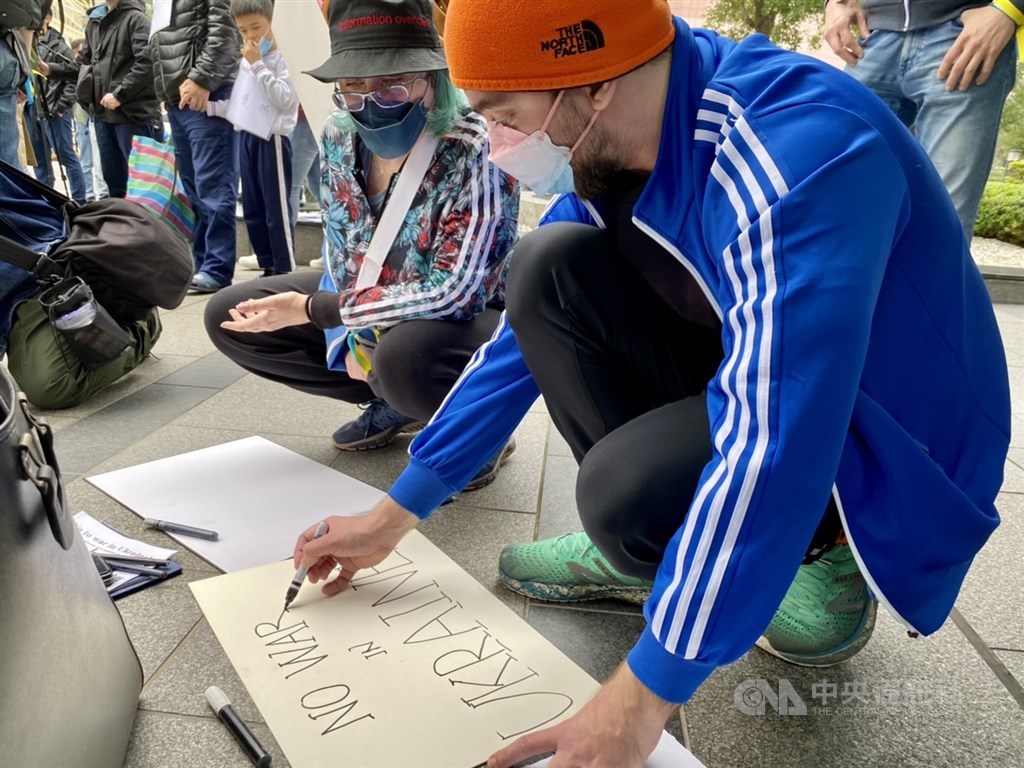 According to Bondarenko, there is misinformation in Russia about the invasion because there are hackers and bots on Russian social media which claim they are Ukrainians who support Russia's actions.
"They say, 'I'm living in Ukraine and everybody is happy because the Russian military has come,'" Bondarenko said. "They use many techniques to manipulate people."
Since Putin announced Russia would launch a "special military operation" during a televised address Thursday morning, Russian military units have attacked several cities in Ukraine and are reported to be attacking its capital Kyiv as city residents and officials have taken up arms to defend themselves, according to media reports from inside the country.
While Putin said the operation is to achieve the "demilitarization and de-Nazification of Ukraine," the Ukrainian government has described it as a full-scale invasion.
Ukrainian Alex Khomenko, one of the initiators of the rally, told CNA that he hoped the Russian military would not conquer Ukraine, and he would continue supporting his country and keep urging Western countries to support Ukraine.
"I think they are still continuing the attacks, so that is the only thing I will be looking at right now," said Khomenko, who was one of the first people to stand outside the Russian representative office when he started doing so Thursday, urging the fighting to stop.
Even though his friends and classmates are still in Ukraine, it is unlikely they can come to Taiwan due to the great distance between the two countries, Khomenko said.
Khomenko also added that there were some parallels between the situation in Ukraine and cross-Taiwan Strait tensions, but they were not exactly the same.
However, a Taiwanese at the rally surnamed Chang (張) said the situations in Eastern Europe and Taiwan are very similar.
Chang said she is from the outlying island of Kinmen and grew up under Chinese pressure.
She felt people in Kinmen had forgotten about this part of history, so she decided to attend the rally and support Ukraine to let Taiwanese, including the people in Kinmen, know that China may use any means to start a war, copying the actions of Russia.
CNA tried to contact the Russian representative office for a statement, but were not able to reach anyone for a response.
Update
March 1: Protests continue outside Russian office, urge donations for Ukraine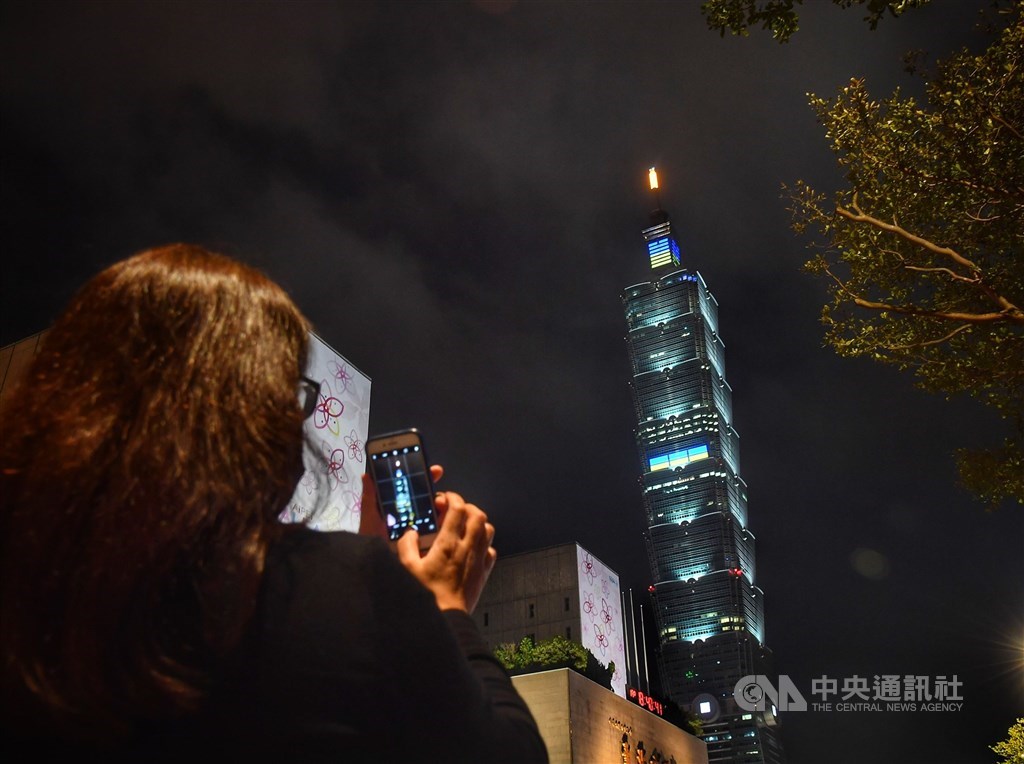 Related News
Feb. 26: Taiwan's opposition parties condemn Russian invasion of Ukraine
Feb. 26: Cabinet drafts measures to stabilize supplies amid Ukraine crisis
Feb. 25: Ukraine backers rally outside Russian representative office in Taipei
Feb. 25: Republic of China government to join international sanctions against Russia
Feb. 25: Ukrainians in Taiwan anxious over family's safety
Feb. 25: Taiwan wary of potential ripples created by Ukraine crisis: defense minister