FEATURE
/
Taiwan, Lithuania ties evolve in face of Chinese pressure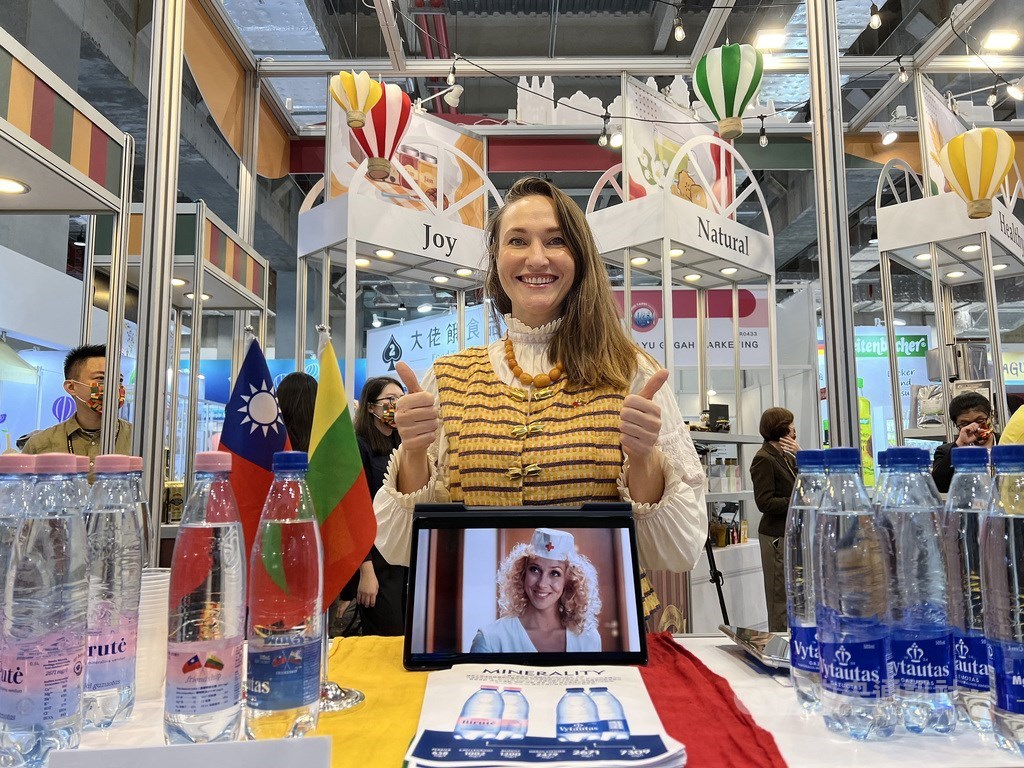 By Joseph Yeh, CNA staff reporter
Aušra Andriuškaitė is one of around 20-plus Lithuanians who live in Taiwan.
After living in the island country for seven years after marrying her Taiwanese husband, Andriuškaitė said most locals she meets know very little about her home country.
"Most of them just know our history when we were occupied by Russia, like part of Russia, before we were an independent country," she told CNA during a recent interview in Taipei.
The feeling is mutual, unfortunately. Most Lithuanians have no knowledge about Taiwan and often confuse it with Thailand, she said.
That does not come as a surprise as the two countries are tens of thousands of kilometers apart.
With no diplomatic relations and no representative offices in each other's country for decades, the two sides have had limited exchanges for a very long time.
"After June, everything changed," she said.
On June 22, 2021, the Lithuanian government announced that it was giving Taiwan 20,000 doses of the AstraZeneca COVID-19 vaccine as the latter faced a shortage of vaccine supply amid an ongoing domestic outbreak, making the Baltic state the first European Union member state to donate vaccines to Taiwan.
The donation was made in gratitude for Taipei's donation of 100,000 face masks to Lithuania when Vilnius faced a shortage of masks in the early days of the COVID-19 pandemic in 2020, the Lithuanian government said.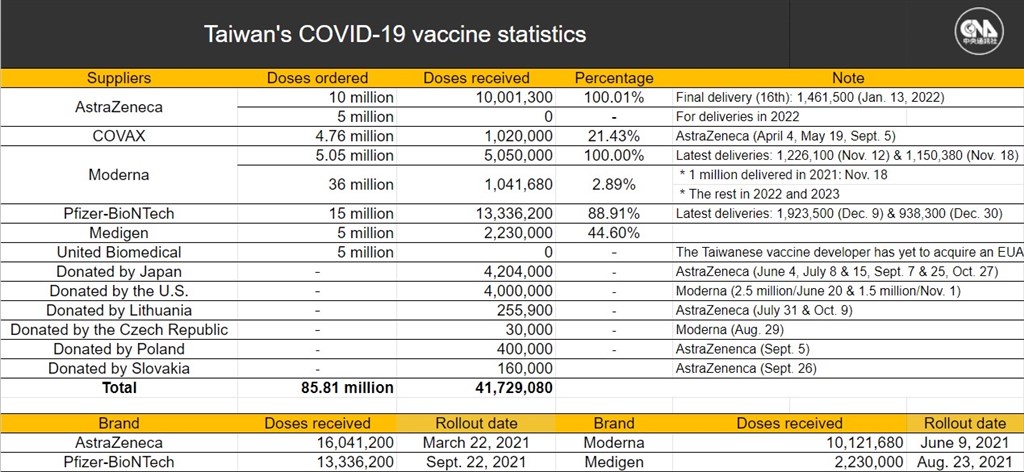 In return, Taiwan's government expressed its deep gratitude for the donation, saying that the gesture reflected a "virtuous cycle" of mutual support between the two democratic partners.
Andriuškaitė said she has witnessed first hand Taiwanese gratitude for the vaccine donation.
Indeed, she recently told Lithuanian National Television (RNT), many Taiwanese show hospitality and express their gratitude to her home country after learning she is from Lithuania.
"One taxi driver, when he found out that I was Lithuanian, refused to charge me for the trip," she told RNT English.
Andriuškaitė also told CNA that she was surprised to learn that Taiwanese people have been making significant donations to Lithuanian NGOs and/or buying Lithuanian products in Taiwan.
According to local media reports, a charity organization in Lithuania saw a recent surge in monetary donations from Taiwanese over a three-day period, after the Baltic country offered to donate COVID-19 vaccine doses.
The exchange of critical supplies in the fight against the coronavirus disease was just the start of warming bilateral relations.
The donation was followed by the two countries announcing they would soon open representative offices in each other's capital.
In November 2021, Taiwan officially opened a representative office in Vilnius as part of a reciprocal deal between the two nations reached in August, which will also see Lithuania open a representative office in Taipei in early 2022.
Even more importantly, these warming relations came as China imposed retaliatory sanctions against the Baltic state over its decision to allow the use of "Taiwanese" in the name of the Taiwan representative office.
Beijing, which sees Taiwan and mainland China as part of one country, has sought to impose a political cost on Lithuania for its decision to allow the use of "Taiwanese" in the name of Taiwan's office, seeing such moves as encouraging formal independence.
Recent punitive measures have included recalling its ambassador to Lithuania, downgrading diplomatic relations, expelling the Lithuanian ambassador to China, as well as suspending direct freight rail services and banning Lithuanian products from entering the Chinese market.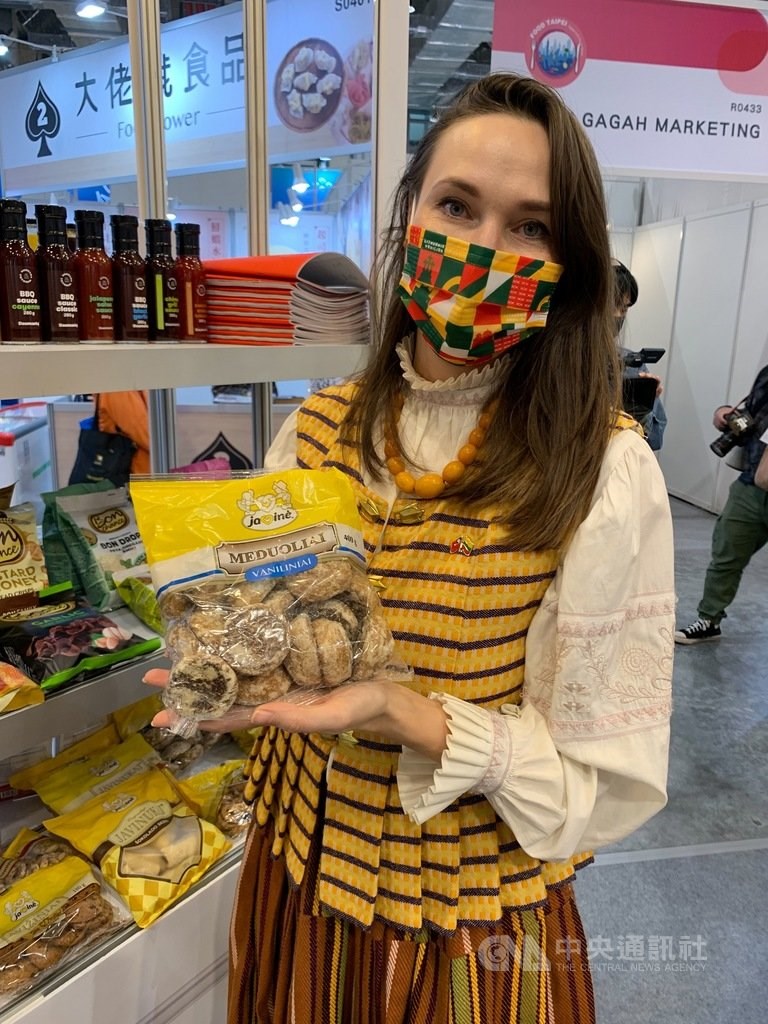 Commenting on the issue, Andriuškaitė told CNA that she was proud of her country's decision to embrace closer ties with Taiwan despite pressure from Beijing.
She said that Lithuania and Taiwan share a similar historical background and know how it feels to be the neighbor of a large authoritarian regime, as the Baltic state borders Russia while Taiwan is just a strait away from China.
"We stand for democracy, democratic values, human rights and so on. So we know this. Really proud," she said.
Lithuanian doubt over anti-China policy
However, Andriuškaitė admitted that she is not sure how long the pro-Taiwan sentiment of the current Lithuanian government will last, as according to a survey more people oppose the government's current policy of warming ties with Taipei and distancing itself from Beijing.
According to the survey of 1,000 Lithuanians taken from Nov. 3-24, 2021, by pollster Norstat on the Baltic state's foreign policy, only 34 percent of respondents supported Lithuania's current position on the issue, while 41 percent did not approve, and 26 percent had no opinion.
As Chinese retaliatory measures continue, the Lithuanian public's opposition to their government's China policy is also growing.
Another survey, conducted on Dec. 10-18 and commissioned by the Lithuanian foreign ministry, asked respondents, among other questions, how they viewed Lithuania's policy on China. Only 13 percent said they supported it, while 60 percent had a negative opinion.
Andriuškaitė attributed the survey results to the great distance between Taiwan and the Baltic state and the fact that most Lithuanian people do not even know where Taiwan is.
It is also true that some businesses are affected by China's sanctions, she added.
Scholars on Lithuanian politics interviewed by CNA had a similar view to that of Andriuškaitė.
Most believed that a poor understanding of Taiwan made Lithuanians feel uncertain as to why their government is distancing itself from one of the world's largest economies.
In Taipei, Marcin Jerzewski, a Polish research fellow at local think tank Taiwan NextGen Foundation, told CNA that Vilnius' cross-Taiwan Strait policy is still largely regarded as a partisan project of the ruling coalition led by Prime Minister Ingrida Šimonytė.
He said the policy is "divisive" and leaves many members of the public "confused and perturbed by the scope of escalation."
Such confusion became even greater in January 2022 after President Gitanas Nausėda publicly criticized his government's decision to allow the opening of the Taipei office using the name "Taiwanese," as the move angered Beijing and led to a series of political and economic sanctions, according to Jerzewski.
Though Jerzewski and other scholars CNA interviewed all saw Nausėda's comments as more the product of a power struggle within the Baltic state rather than a change in the country's Taiwan policy, Jerzewski said it is "imperative" for the ruling coalition to be "more transparent and inclusive" as they develop policy towards Taiwan.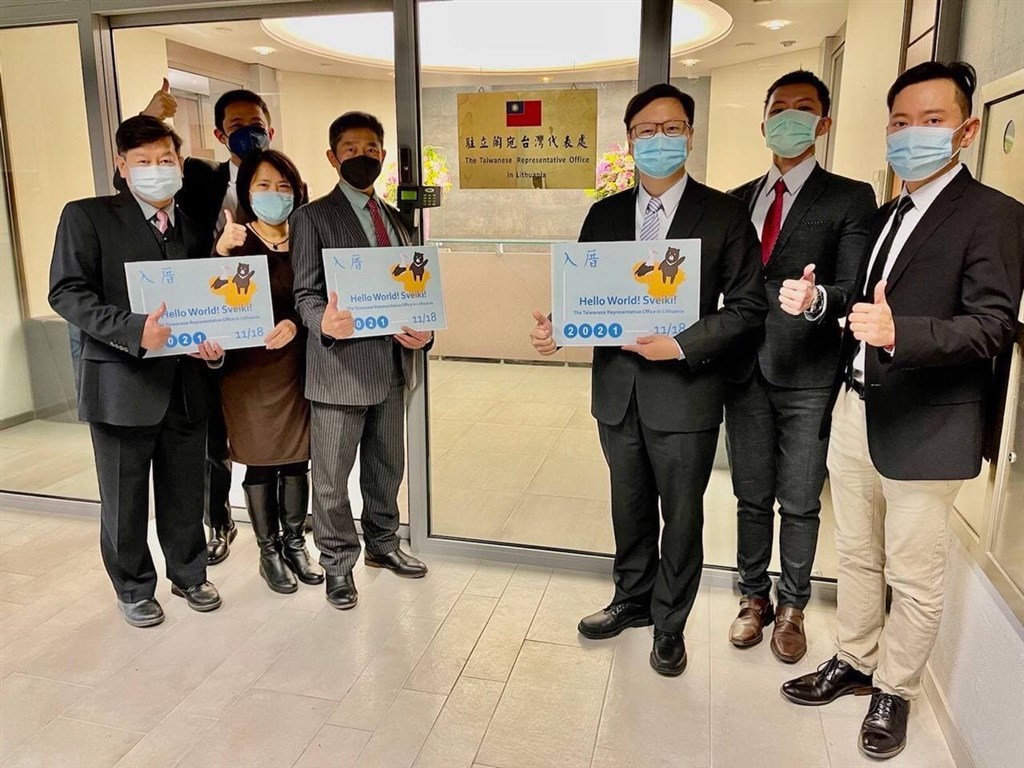 Vilnius continues to support the "Taiwanese office"
Despite apparent public concern and uncertainty, Lithuania's Cabinet led by Šimonytė insists it will stick to its decision to allow the Taiwan office to use the name "Taiwanese."
In answering questions raised by CNA, Vytautė Šmaižytė-Kuliešienė, spokeswoman for the Lithuanian Ministry of Foreign Affairs, said the government "stands firm" on its decision.
"Support for democracy and human rights as universal values was part of the coalition agreement and makes up an important part of the government program of Lithuania," Šmaižytė-Kuliešienė said.
Meanwhile, Matas Maldeikis, who heads the Lithuanian parliament's Taiwan friendship group, said in a tweet that changing the name of Taiwan's office "won't stop China being a corrupt, unreliable, oppressive antidemocratic bully."
"So we are not going to change it," he tweeted.
Taiwan is also doing its part to show solidarity with the Baltic state. Both its public and private sectors are purchasing some of the Lithuanian exported consumer goods turned away by China.
A Taiwanese company has bought nearly 1,000 boxes of Lithuanian milk blocked by China and plans to use it for a new tea drink that will feature the colors of the Lithuanian flag.
Meanwhile, a state-owned company of Taiwan recently bought 20,400 bottles of Lithuanian rum that China refused to let into the country.
In early January this year Taipei also announced the establishment of a US$200 million fund in the coming months to prioritize investment in Lithuania, before expanding it to also include other central and eastern European Union states.
On Jan. 11, National Development Council (NDC) head Kung Ming-hsin (龔明鑫) further announced that a US$1 billion credit fund would soon be set up as part of Taipei's efforts to encourage Taiwan-Lithuania business cooperation, on top of the US$200 million fund.
Taiwan has repeatedly expressed gratitude toward the Baltic state over the latter's "moral courage" to allow its office in Vilnius use the name "Taiwanese," denouncing China's retaliatory measures as "rude and unreasonable."
At a virtual press conference held with Kung, Lithuania's Economy and Innovation Minister Ausrine Armonaite said his government's plan to soon open a Taipei office is going smoothly, and if everything goes well, the office will be opened "sometime in spring."
In Taipei, Andriuškaitė, who heads the Lithuanian Community in Taiwan, where she regularly holds gatherings with her countrymen and those from the other two Baltic states during Easter and Christmas, said she is currently helping her country look for a location for its future trade office.
The opening of the new office will encourage more EU countries to do the same, Andriuškaitė said.
"My hope is that our neighboring countries will also follow suit," she added.
Enditem/AW
View All