Flourishing of Taiwan's democracy is 'formidable': EP delegation head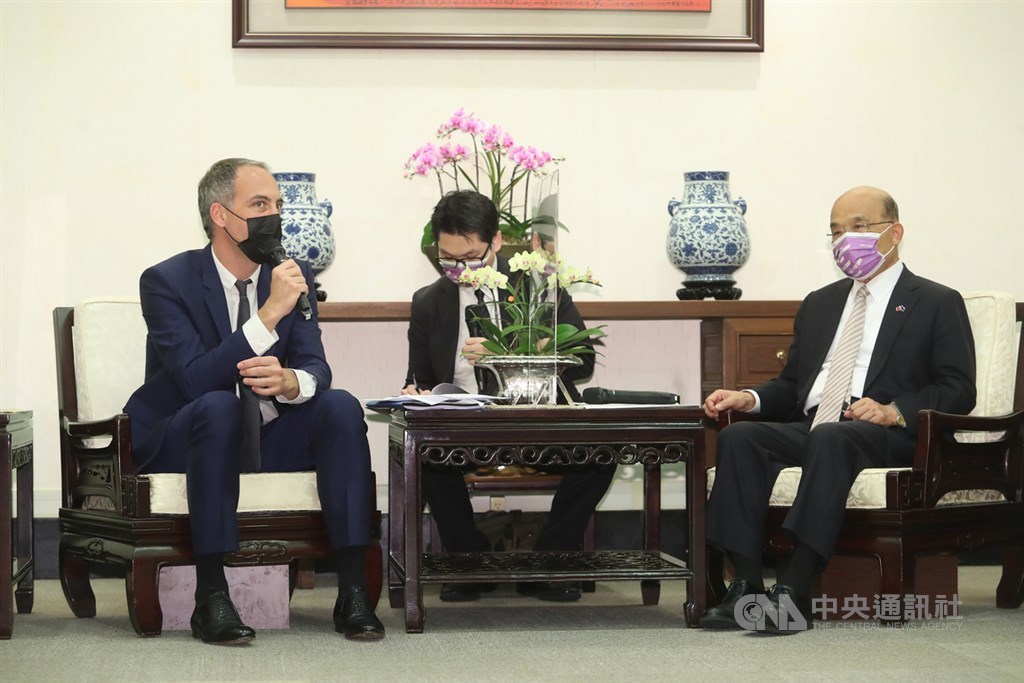 Taipei, Nov. 3 (CNA) The head of the European Parliament (EP) delegation visiting Taiwan said on Wednesday the flourishing of Taiwan's democracy was "formidable," and that the delegation wished to commend and learn from Taiwan's experience in combating foreign interference.
The delegation, which arrived in Taiwan Wednesday morning, comprises members of the EP's Special Committee on Foreign Interference in all Democratic Processes in the European Union, including Disinformation (INGE). It is the first formal delegation from the European Parliament to visit Taiwan.
During a meeting with Premier Su Tseng-chang (蘇貞昌) later in the day, INGE Chair and delegation head Raphaël Glucksmann said that the "flourishing of your democracy is formidable."
The world does not understand "how difficult and how courageous" it is to build a democracy while being threatened by an authoritarian regime like Beijing, Glucksmann said.
As Europe is also facing "interference from authoritarian regimes," the delegation has come to learn from Taiwan's experience in dealing with this kind of threat and see what kind of tactics can be applied at home, he said.
The visit serves the additional purpose of expressing Europe's gratitude to Taiwan for its donation of surgical face masks and mask production lines in the early stages of the COVID-19 pandemic, Glucksmann said.
Su said at the meeting that Taiwan has much experience in combating disinformation, and he thanked the EP for supporting exchanges between Taiwan and Europe as well as Taiwan's participation in international organizations, such as the World Health Organization.
Commenting on the visiting delegation Wednesday, Executive Director of the European Union Center in Taiwan Marc Cheng (鄭家慶) said that Taiwan-Europe relations have increased in visibility over the past few years due to visiting delegations to and from both sides.
These delegations also reflect the fact that the two sides have grown closer, and as topics of mutual concern between Taiwan and Europe expand in scope the relationship will further deepen over the next few years, Cheng told CNA.
The visit by INGE members in particular shows that Taiwan has ample experience at combating disinformation, and this experience can be shared with the international community, Cheng said.
Legislator Chao Tien-lin (趙天麟) of the ruling Democratic Progressive Party (DPP) echoed Cheng's view, saying that due to economic concerns, Europe used to place Taiwan in a more secondary position, relative to China.
It is incredibly meaningful now that Taiwan and Europe are engaging in official exchanges, Cheng said.
DPP lawmaker Lo Chih-cheng (羅致政) said that the visiting delegation shows the EP is unwilling to bow to pressure from China, which has repeatedly warned European countries to refrain from engaging with Taiwan.
Prior to the INGE visit, China's representative office in the European Union said the visit would "harm China's core interests and damage the healthy development of China-Europe relations."
Update
Nov. 7: Consensus on Europe-Taiwan cooperation led to visit: EP delegation head
Nov. 5: EP delegation to recommend Taiwan as hub to combat disinformation
Nov. 4: Europe is standing with Taiwan in defending freedom: EP delegation