Eric Chu stresses unity as he takes over leadership of KMT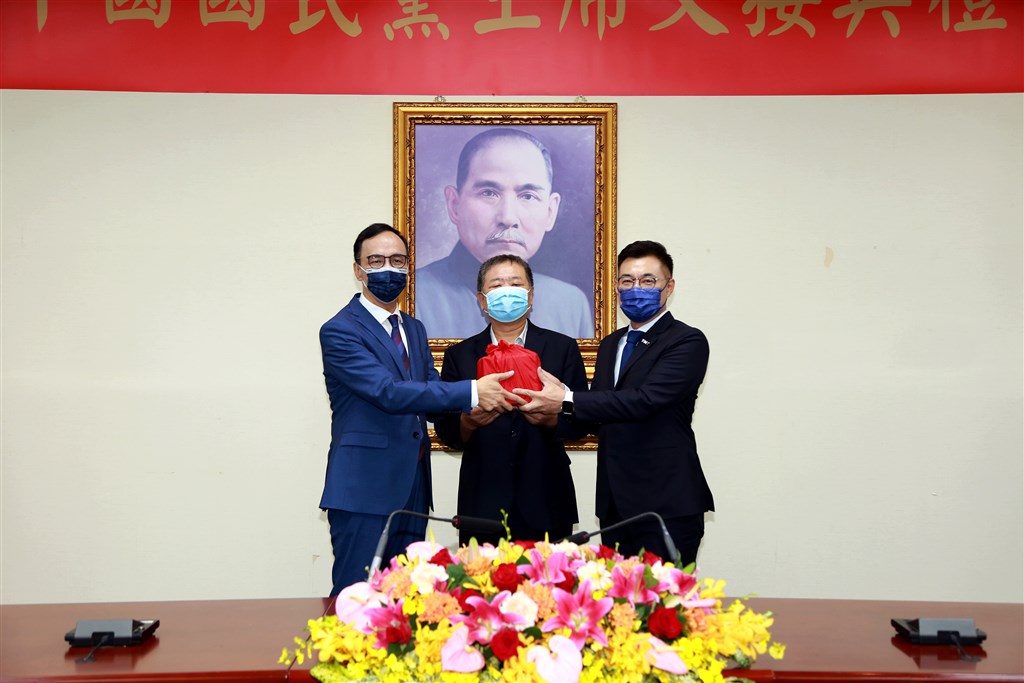 Taipei, Oct. 5 (CNA) New Kuomintang (KMT) Chairman Eric Chu (朱立倫) stressed unity at a handover ceremony for the party's new leader at its headquarters Tuesday, vowing to prepare the party for political combat and bring alienated members back into the fold.
"The end of the party chairperson race means the beginning of party unity and the battle against (the ruling Democratic Progressive Party)," Chu said at the ceremony, which was also attended by former KMT chairpersons, including former President Ma Ying-jeou (馬英九).
The man Chu will replace at the head of the KMT, Johnny Chiang (江啟臣), handed the KMT seal to Chu, who will lead the KMT after defeating Chiang and two others in the party's chairmanship election on Sept. 25.
Chu thanked Chiang for his contributions over the past year and a half and described him as one of the party's most important members.
Speaking of the challenges ahead, Chu said it was extremely important to bring back the many KMT members who no longer associate with the party.
"There may be 100,000, 200,000 or even 300,000," he said. "I beg every one of you to bring them back into the KMT's big family, even if they are disappointed or dissatisfied with it. That will be the first step toward party unity."
According to Chu, the KMT currently has 370,000 party members.
Chu, who has served as the country's vice premier, the head of New Taipei City and Taoyuan County, and as a legislator, also underscored the need for the KMT to connect with China and the international community.
"Based on the party platform, the KMT should restart its cross-Taiwan Strait exchange platform for the sole purpose of creating a more peaceful environment and bringing the greatest benefit to Taiwan's people," he said.
In terms of international relationships, the KMT should forge links with the United States, Japan, the European Union, Singapore and Southeast Asian countries to build cross-strait peace and bring Taiwan closer to the global village, he said.
Stressing that the KMT will side with Taiwan's people in the streets and the Legislature in the fight against the DPP, Chu said the KMT must keep the DPP in check through democratic procedures, such as referendums on four major issues to be held in December and local government elections in late 2022.
"There is no room for the KMT to let its guard down," he said.
Chiang, meanwhile, called for the removal of pro-independence Taiwan Statebuilding Party Legislator Chen Po-wei (陳柏惟), elected from Taichung's second electoral district, in a recall vote to be held on Oct. 23.
He said the recall of Chen and the forthcoming referendums will be one of the major tasks Chu must face and that he hopes the KMT can get back on its feet and form a fighting team as soon as possible.