U.S. capable of 'tamping down' potential China invasion of Taiwan: U.S. official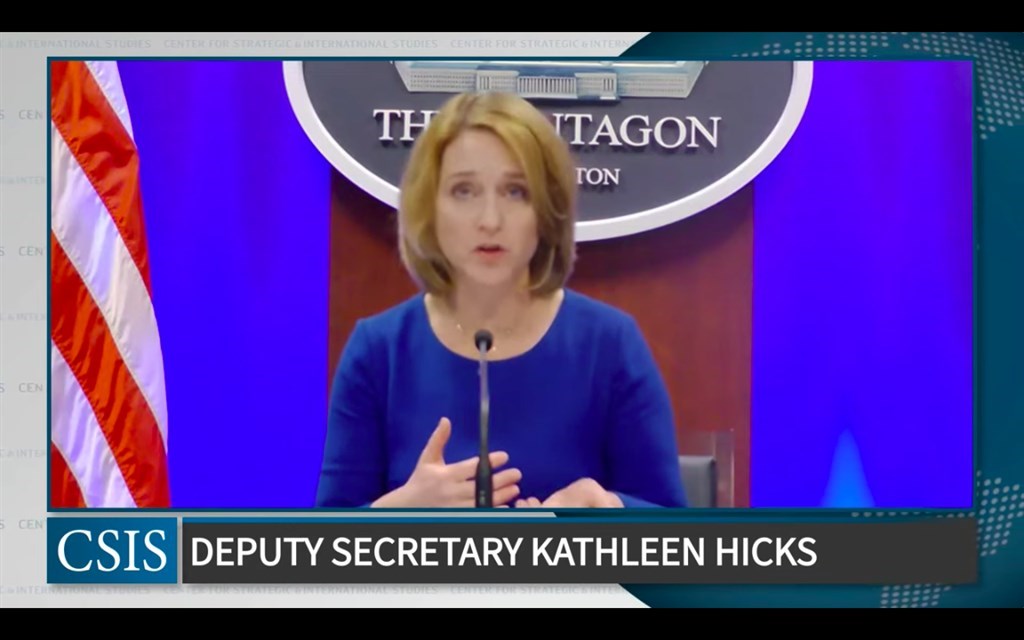 Washington, Oct. 1 (CNA) Kathleen Hicks, Deputy Defense Secretary of the United States, said on Friday that her country has the capability of "tamping down" China's potential invasion of Taiwan.
In an online forum held by the Center for Strategic and International Studies (CSIS), one of the U.S. major policy research groups, Hicks also reiterated the U.S. commitment to strengthening Taiwan's self-defense capability.
When asked to comment on a potential invasion by China of Taiwan, Hicks said the U.S. has been watching the situation in the region very carefully "day to day."
"We have a significant amount of capability forward in the region to tamp down any such potential," Hicks said. "We have good relations, of course, with Taiwan. We have commitments to Taiwan that are enduring since the 1970s."
Hicks said the primary issue is that the U.S. is helping Taiwan to raise its self-defense capabilities against a potential invasion by China.
"That's really important. The Taiwanese, their ability to defend themselves effectively, is a game-changer in terms of that deterrent calculus for China," Hicks said.
On Friday, a total of 38 Chinese military aircraft flew into Taiwan's air defense identification zone (ADIZ), the highest number in a single day since Taiwan started a tally of such maneuvers in September 2020, according to the Ministry of National Defense (MND).
This latest military action has been perceived as China's attempt to use these exercises to remind Taiwan of the potential for conflict and to warn the current Taiwanese government against taking what Beijing sees as steps aimed at gradually achieving formal independence.
In the forum, Hicks said the U.S. is working closely with its allies and partners, including Taiwan, which has a strong semiconductor production industry and boasts an advanced democratic system.
"So that's an area we want to have a lot of focus on, as well as our own - and, as I said before, with allies and partners - our own credible demonstration of interests in, frankly, a democracy with an advanced economic - and to your point on the chips, semiconductor industry - yes, that's sort of a business case, if you will," Hicks said.
Morris Chang (張忠謀), founder of Taiwan Semiconductor Manufacturing Co. (TSMC), has said TSMC, the world's largest contract chipmaker, has shown its strategical value in geopolitics through its strength in the industry, adding that the company's chips have been coveted worldwide.
TSMC has been recently invited to attend the semiconductor summit on several occasions by the White House at a time when the global market is suffering from a shortage in microchip supplies, which is hurting the global auto industry.
At the forum on Friday, Hicks also added that since Taiwan has demonstrated an ability to be a democracy, "we have an interest in ensuring democracies can flourish."