Newly elected KMT chief Eric Chu calls for unity, aims to open U.S. office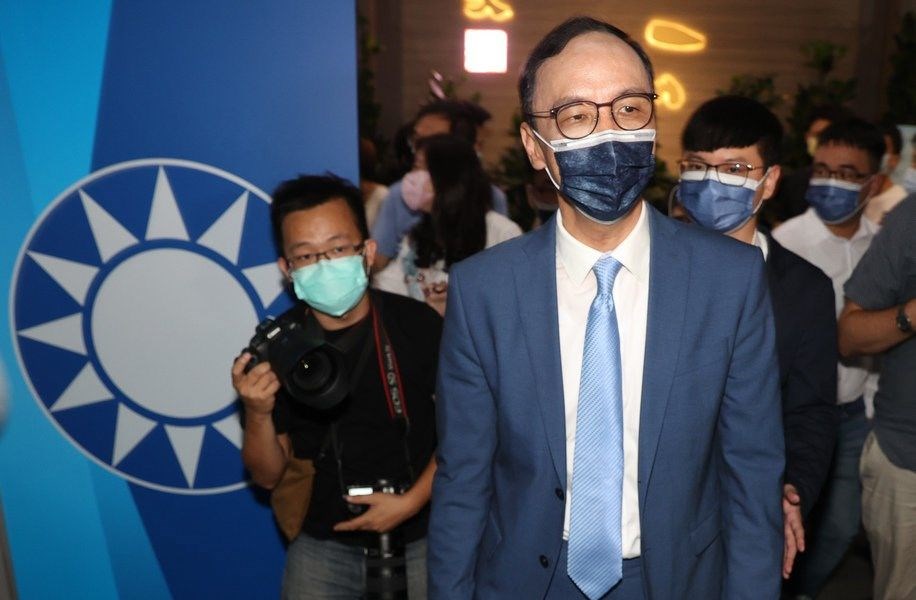 Taipei, Sept. 25 (CNA) Newly elected opposition Kuomintang (KMT) Chairman Eric Chu (朱立倫) called for unity within the party on Saturday and reiterated his intention to open a KMT representative office in the United States.
"The majority of KMT party members have given me the opportunity to be the head coach of the party, and I will strive to help every player in our team achieve his or her best performance in their position," Chu said in his victory speech during a press conference held at KMT headquarters in Taipei.
Chu, 60, garnered 85,164 votes, or 46 percent of the 187,999 KMT members who cast ballots on Saturday, beating the other three contenders including incumbent chairman Johnny Chiang (江啟臣), NGO Sun Yat-sen School President Chang Ya-chung (張亞中), and former Changhua County Magistrate Cho Po-yuan (卓伯源).
Chu called for unity among party members after the election came to an end. "No matter who you voted for today, they all support the Kuomintang," he said.
He also pledged to restore confidence in the KMT and work to attract more young people to join and change the party.
In addition, Chu announced that preparations for the KMT representative office in the U.S. will commence on his first day of work. The KMT closed its U.S. office in 2008, shortly after former President Ma Ying-jeou (馬英九) took office.
Chu has previously said he would try to balance the party's ties with the U.S. with its ties with China if elected party chairman.
At the press conference, he also stressed the importance of cross-strait relations and said he would seek to resume dialogue with Chinese authorities while facilitating exchanges between Taiwanese and Chinese.
However, when asked about how he plans to achieve these goals, he did not elaborate. "Doing is better than saying," he said, adding that people can wait and see.
This is the second time that Chu has been elected as the KMT's party chief.
He previously held the post in 2015 but stepped down about a year later after his presidential bid was crushed by the rival Democratic Progressive Party's Tsai Ing-wen (蔡英文) in the 2016 presidential election.
Chu vowed to lead the party to defeat the ruling DPP in the upcoming national referendums and elections.
He was referring to two KMT-led referendum proposals that will be voted on nationwide on Dec. 18, and local government and presidential elections in 2022 and 2024, respectively.
Commenting on the election result, a senior KMT member who asked to remain anonymous told CNA Saturday that after assuming chairmanship, it is important for Chu to rebuild relations and reopen channels of dialogue with the U.S., and to improve ties with China.
A KMT lawmaker who also asked to be anonymous said Chu would need to rethink the KMT's approach to Taiwan-U.S.-China relations, as the present international environment is very different from the time when former President Ma Ying-jeou was in office.
Meanwhile, Chiang conceded the chairmanship in a press conference at the KMT headquarters an hour prior to Chu's victory speech and extended congratulations to the new chairman. Chiang also announced his resignation and said he would begin the handover process.
According to the KMT, the results of the chairmanship election will be delivered to the party's decision-making Central Standing Committee for confirmation on Sept. 29. Chu will assume the office at the KMT National Congress and begin his four-year tenure on Oct. 30.
Similar to Chu, Chiang urged party members to be united and put aside competition as well as any conflict that emerged during the race.
Speaking with reporters after Chu's press conference, Chang, who finished second in the chairmanship race, urged the KMT to take up the responsibility of ending hostilities between Beijing and Taipei and achieve cross-strait peace.
"Even though we are an opposition party, we should brace ourselves to overcome the adversity in the cross-strait relationship," he said, adding the KMT should insist on its values.
The senior KMT member who spoke to CNA warned that Chang, an outspoken supporter for unification with China, could pose a challenge to Chu when he assumes the role of the party chief.
Chang, who began his campaign as an underdog, has seen his popularity surge in the final weeks leading up to the election. He had proposed a peace "memorandum" between the KMT and the Chinese government, a proposal which Chu rejected as "not feasible."