Lithuania hopes to diversify markets with trade office in Taiwan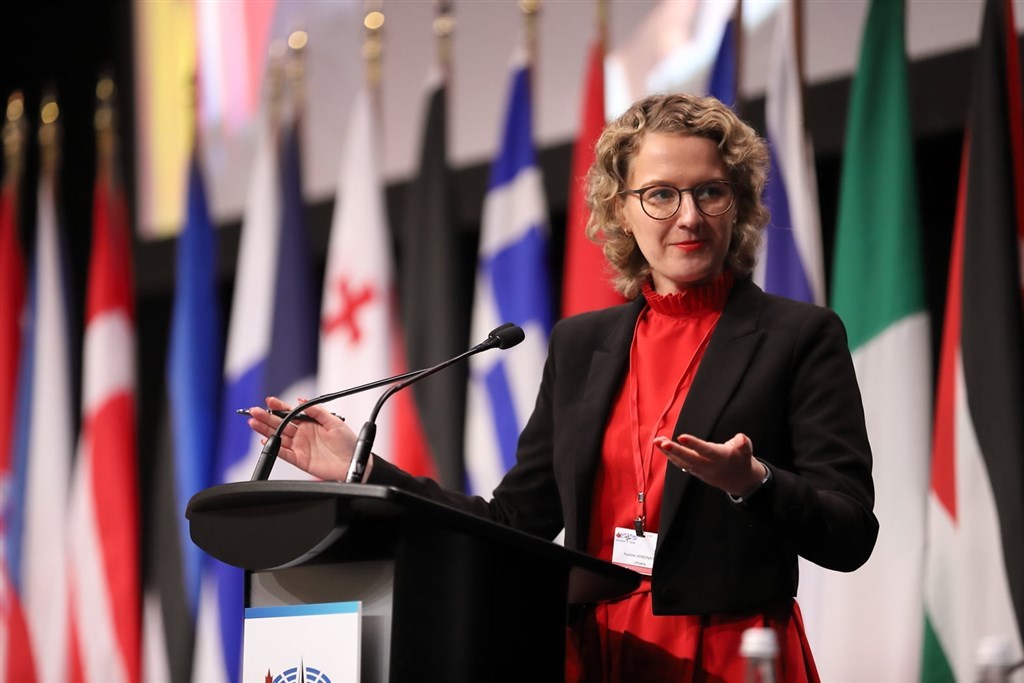 Taipei, Aug. 20 (CNA) Lithuania hopes to diversify its markets and expand economic cooperation with Taiwan by opening a trade office in Taipei, the country's Economic and Innovation Minister Aušrinė Armonaitė told CNA in an interview earlier this week.
Taiwan and Lithuania, whose relations have become warmer in recent years, are planning to exchange offices in each other's territories. However, the naming of Taipei's office in Vilnius, the Taiwanese Representative Office, has angered Beijing, which recalled its ambassador from the Baltic country last week.
Beijing sees Taiwan as part of its territory and objects to any interactions with the international community that may carry implications relating to Taiwan's sovereignty.
Asked whether she felt pressure from Beijing over the perceived elevation of Taiwan-Lithuania ties, Armonaitė said Lithuania respects China's domestic and foreign policies, just as the European Union (EU) does.
Despite this, the EU has strong ties and healthy economic relations with Taiwan, she said, noting that Taiwan is the EU's 6th largest trading partner in Asia while the EU is Taiwan's 5th largest market.
Lithuania wants to have an office in Taiwan as other EU member states already do and it seeks mutual beneficial and equal relations with all countries, including China, she said.
Stressing that her country's economic policy is geared toward the pursuit of market diversification, Armonaitė said Lithuania will not drop the plan to open the office, which will likely be headed by a career official from the Ministry of the Economy and Innovation.
The 32-year-old founder of the Freedom Party, which forms part of the ruling coalition in Lithuania, met with high-level decision makers, business leaders, as well as toured science parks and universities during a visit to Taiwan in 2019.
On returning to Lithuania she and other members of the delegation published an open letter in Lithuanian newspapers, urging Vilnius to establish an office in Taiwan to elevate bilateral relations.
During the interview, Armonaitė also expressed hope that by establishing a trade office in Taiwan, Lithuania, which is known for its laser technology, can more effectively present its potential in the business, technology and innovation sectors to the Taiwanese people.
Currently, Lithuanian companies that produce lasers and others in the food and beverage industry already do business with Taiwan, while many in the information technology, financial technology and biotechnology sectors are interested in forging partnership with Taiwan, she said.
Armonaitė stressed that Lithuania has a lot to offer, as it tops the EU in terms of the number of licensed financial technology companies and has been ranked the 4th best location for developing such technology globally, behind the United States, the United Kingdom and Singapore.
She also talked about the country's strengths in automotive, electronics, life sciences and space sectors, investment incentives, competitive labor force and its strong infrastructure.
In terms of COVID-19 prevention cooperation, Taiwan donated 100,000 medical face masks to Lithuania when the pandemic broke out in early 2020, while Lithuania pledged to donate 20,000 doses of the AstraZeneca vaccine to Taiwan in June this year.
"It is likely that in the future, we will continue to help countries that lack vaccines," she said. "Only by working together will we be able to protect ourselves, our loved ones and return to normal life as soon as possible."