U.S. national security advisor reaffirms commitment to Taiwan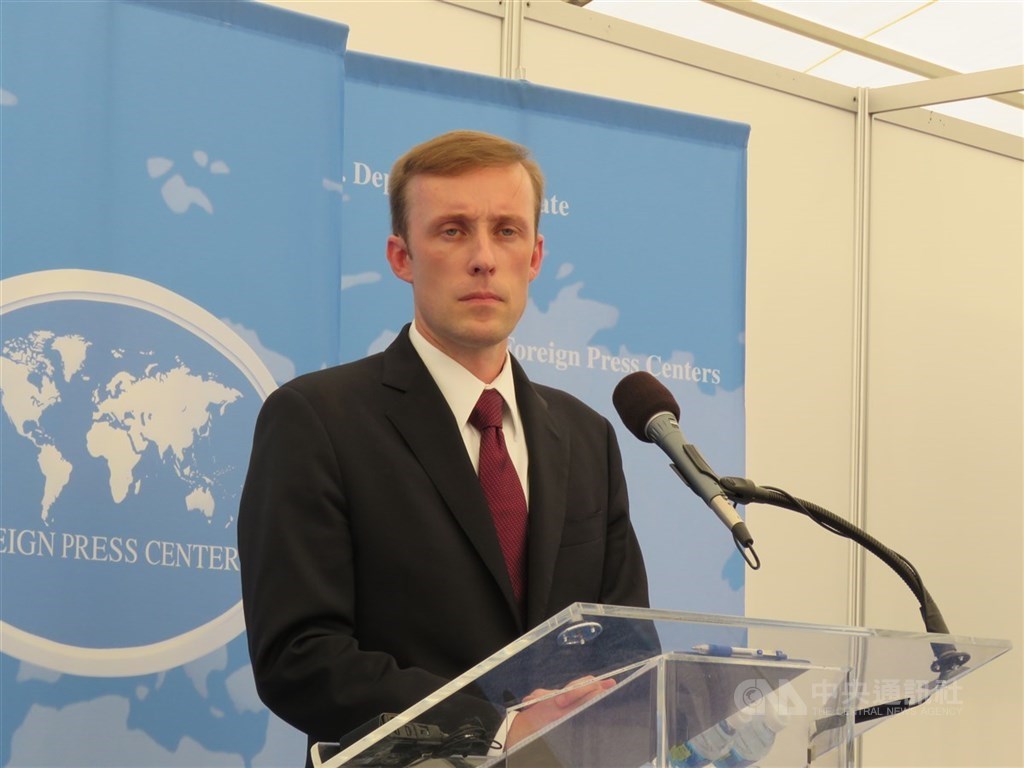 Washington, Aug. 17 (CNA) U.S. President Joe Biden's national security advisor on Tuesday reaffirmed the United States' commitment to Taiwan amid concerns that the U.S. could abandon it and other U.S. allies to Chinese aggression or terrorists after the U.S. exit from Afghanistan.
"We believe that our commitments to our allies and partners are sacrosanct and always have been. We believe our commitment to Taiwan and to Israel remains as strong as it's ever been," Jake Sullivan said during a media briefing.
He also rejected arguments that drew potential parallels between Afghanistan and Taiwan, saying that the situation in Afghanistan was different from that of Taiwan.
"When it comes to Taiwan, it is a fundamentally different question in a different context," Sullivan said, without elaborating.
An anonymous U.S. senior official went into slightly more detail, however, on why the U.S. feels Afghanistan is far different from Taiwan.
The original U.S. mission in Afghanistan was to prevent another terrorist attack following al Qaida's Sept. 11, 2001 attacks on America, which were planned from Afghanistan. U.S. troops have since been stationed there as rebuilding Afghanistan became a goal after the Taliban lost power that year, the official told CNA.
In comparison, Washington's Taiwan policy is focused on maintaining peace and stability across the Taiwan Strait, the official said.
The U.S. military was scheduled to complete its withdrawal from Afghanistan by August 31, after 20 years of war, but even before the deadline,  Afghanistan fell into the hands of the Taliban militant group on Sunday.
The chaotic scenes at Kabul's airport harkened back to the U.S.'s departure from Vietnam and raised questions over Biden's decision to withdraw U.S. troops from Afghanistan and the reliability of U.S. promises to help defend any partner, including Taiwan.
China has been happy to propagate that idea.
Hu Xijin (胡錫進), editor-in-chief of China's jingoistic Global Times, taunted the U.S. on Twitter on Monday, writing that after the fall of the Kabul regime, the Taiwan authorities must be trembling.
"Don't look forward to the US to protect them. Taipei officials need to quietly mail-order a five-star red flag from the Chinese mainland. It will be useful one day when they surrender to the PLA," he tweeted.
Sullivan said at the briefing that in fact the United States went beyond its commitment in Afghanistan.
"We gave 20 years of American blood, treasure, sweat, and tears in Afghanistan."
"We gave them every capacity, in terms of training and equipment, to stand up and fight for themselves. And at some point, it was time for the United States to say that the Afghan people had to stand up for themselves," he added.
According to Sullivan, the U.S. said in 2011 it would pull out from Afghanistan in 2014.
"We stayed another seven years -- far and above and beyond the commitment that we made more than a decade ago," he said.