F-16 fighter jet pilot awarded posthumous citation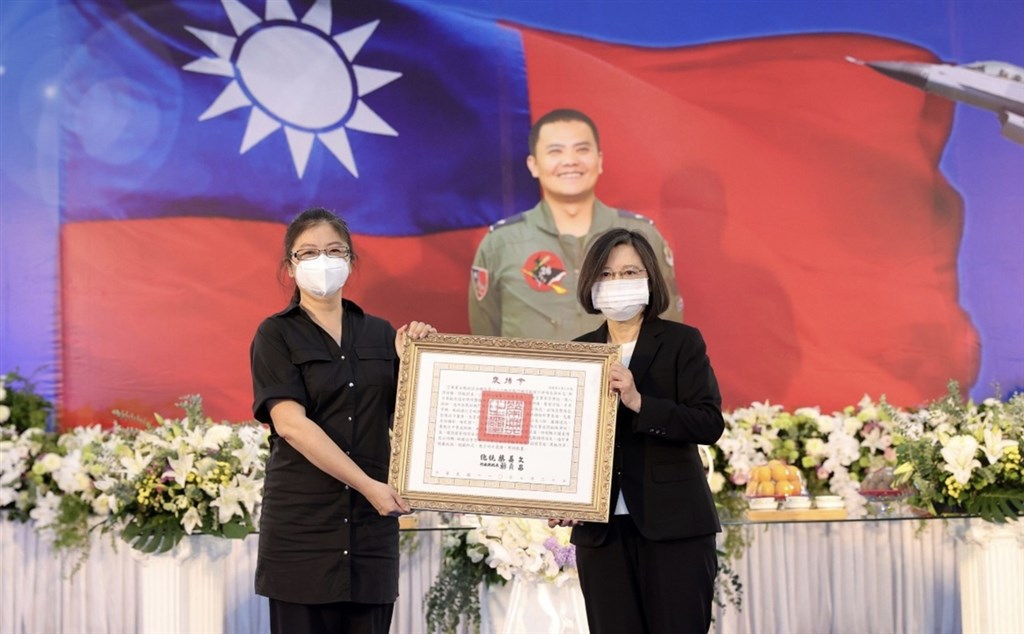 Taipei, July 31 (CNA) President Tsai Ing-wen (蔡英文) on Saturday granted a posthumous presidential citation to Air Force Major General Chiang Cheng-chih (蔣正志), who died in an F-16 fighter jet crash off eastern Taiwan last year.
"Your mission has ended," Tsai said at the award ceremony in Hualien County, eastern Taiwan. "Thank you, and we are forever proud of you."
Chiang's death was a great loss to his country, but he will be remembered for his contributions and sacrifice, Tsai said, as she presented the posthumous award to the pilot's widow, Liu Pang-ling (劉邦菱).
On Nov. 17 last year, Chang took off from Hualien Air Base at 6:07 p.m. in the single-seat fighter jet on a routine drill, and about two minutes later, the aircraft plunged 7,000 feet in 20 seconds and disappeared from radar screens, according to the Taiwan Air Force.
Military search and rescue teams never found Chiang or the aircraft, and although they did manage to locate the plane's black box, they could not retrieve it due to poor weather conditions at sea. Eventually, they gave up the search, after the black box -- a system that records flight data -- stopped emitting signals.
The Air Force later ruled out mechanical failure as the cause of the aircraft's disappearance in an area nine nautical miles northeast of the air base.
Instead, it said, the accident may have occurred because Chiang, 44, had suffered spatial disorientation and lost his sense of direction when the aircraft entered the cloud layer.
Six months after Chiang's disappearance, he was declared dead by the court, at the request of his family, and Tsai posthumously promoted him from the rank of colonel to major general.