U.S. must help Taiwan stave off China aggression: Biden's U.N. pick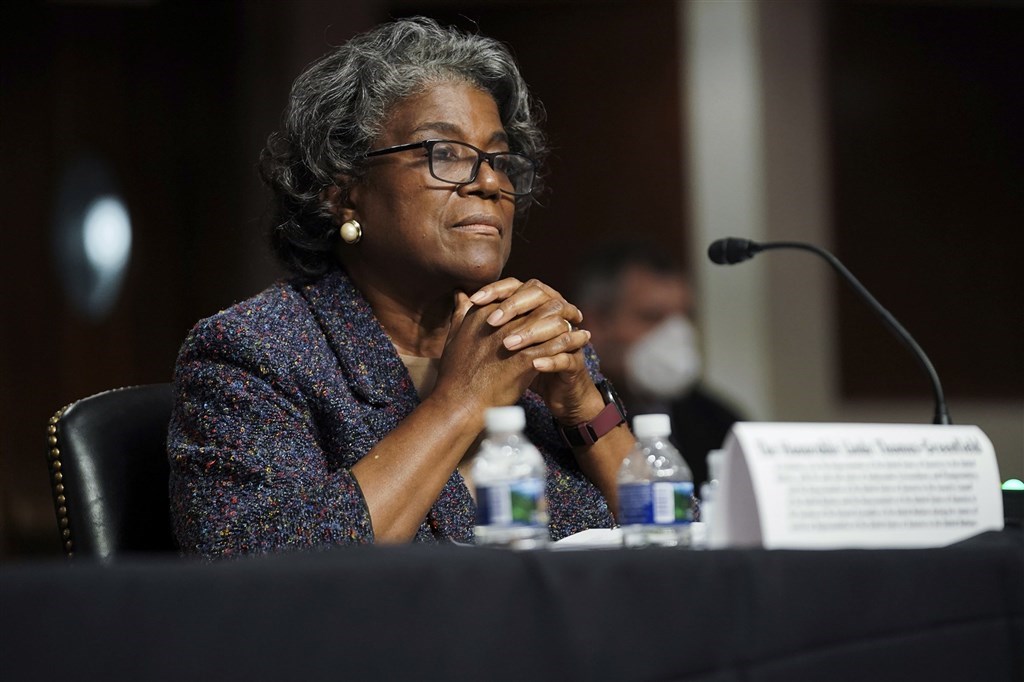 Washington, Jan. 27 (CNA) The United States must help Taiwan push back against Chinese efforts to compromise its security, Linda Thomas-Greenfield, nominee for U.S. ambassador to the United Nations, said Wednesday.
Speaking at her confirmation hearing in the U.S. Senate, Thomas-Greenfield said Taiwan is "one of the strongest democracies in the region," and the U.S. needs to "support" and "stand by them" as a fellow democracy.
Specifically, she said, the U.S. must "provide (Taiwan) with the security they need to push (back) against any efforts by the Chinese to compromise their security."
Asked by Senator Ron Johnson if that support would include weapons sales, Thomas-Greenfield said she would leave that question to those responsible for making such a decision, but she added that she believed it "would include providing them with the wherewithal to support their own security."
Thomas-Greenfield, who has been nominated by U.S. President Joe Biden to serve as ambassador to the U.N., described China as a "strategic competitor" that poses challenges to America's security, prosperity and values.
She also reaffirmed the importance of U.S. leadership in institutions like the U.N., warning that "if we walk away from the table and allow others to fill the void, the global community suffers, and so do American interests."
China, in particular, is working across the U.N. system to "drive an authoritarian agenda" and exercise a "malign influence" on multilateral bodies such as the World Health Organization, she said.
If confirmed, Thomas-Greenfield said, she would "fight all efforts by the Chinese government to add harmful language to U.N. resolutions and to resist China's efforts to overfill key U.N. positions with Chinese citizens."
Regarding her record, Thomas-Greenfield expressed regret over a 2019 speech she gave at a China-funded "Confucius Institute" at Savannah State University, a historically black college in Georgia.
Thomas-Greenfield said that while the speech was intended to encourage young Black students to join the foreign service, she wished she had not accepted the invitation, and she expressed "strong support" for Congress' crackdown on Confucius Institutes.
In a statement Thursday, Taiwan's Ministry of Foreign Affairs expressed thanks for Thomas-Greenfield's supportive statements and said it was looking forward to working with the Biden administration to continue strengthening U.S.-Taiwan relations.
Meanwhile, new U.S. Secretary of State Antony Blinken told reporters at a press conference Wednesday that he had not heard Thomas-Greenfield's remarks at her hearing about the treatment of the Uyghur people in China but said his judgment remained that "genocide was committed against the Uyghurs, and that hasn't changed."
On the question of how he would work with China on issues like climate change while maintaining his views about the treatment of the Uyghur people, Blinken said the importance of the U.S.-China relationship would require bilateral cooperation in "areas where it's in our mutual interest to work together," even as other aspects of the relationship remain "adversarial" and "competitive."
The questions were raised by reporters at Blinken's first press conference since his appointment, after Thomas-Greenfield said at her confirmation hearing that the State Department would review the previous administration's last-minute declaration that China's treatment of the Uyghurs was genocide.