Group apologizes for mistaken classification of Taiwanese cities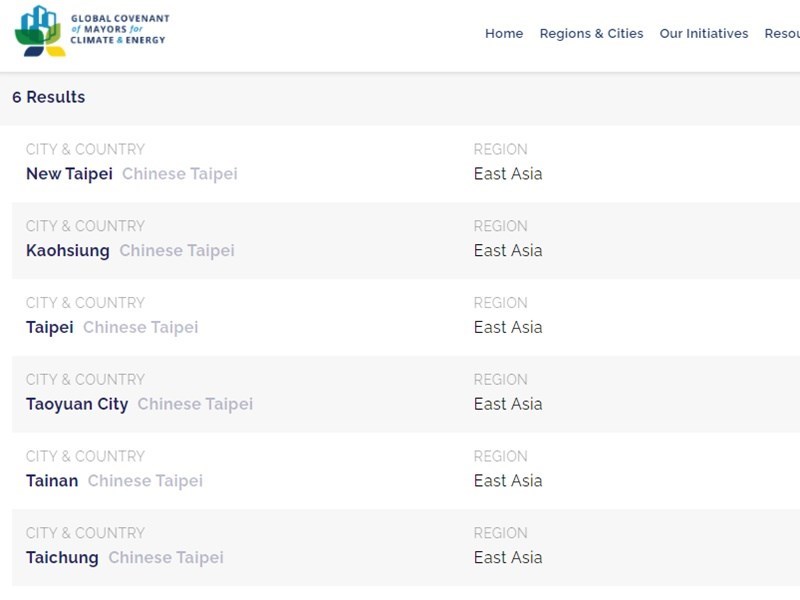 Brussels, Sept. 28 (CNA) The Global Covenant of Mayors for Climate and Energy (GCoM) on Monday apologized for classifying six Taiwanese cities as being part of "China."
The six Taiwanese cities -- Taipei, New Taipei, Taoyuan, Taichung, Tainan and Kaohsiung -- were found listed under the country classification of "China" on the GCoM website over the weekend, even though Taiwan is not part of the People's Republic of China.
Following protests by Taiwan and the six cities, the GCoM changed its country classification Sunday night to "Chinese Taipei," the name originally used when the cities joined the organization.
In an email response to a CNA inquiry on the issue, the Global Secretariat of the GCoM said the mislabeling was a simple "technical error."
"This weekend we identified a technical error regarding the classification of six cities in our database which has now been corrected. The classification of these six cities, which was erroneously changed during a recent database update, has been reverted to Chinese Taipei," the email said.
"We sincerely apologize for this error and any confusion that this has caused" it said.
The correction was made after the six cities issued a joint letter to the GCoM, requesting that it "immediately fix the website and change the registered names of our cities back to the original registered nationality."
It said that if the alliance did not respond positively, the six cities would withdraw from the group to "defend our rights and interests."
According to Foreign Minister Joseph Wu (吳釗燮), his ministry, together with the local governments, protested the mistaken designation via different channels.
Wu said Monday he was happy to see the mayors of the six cities united over the matter across party lines and that the issue has now been resolved.
Also Monday, the mayors of the six Taiwanese cities applauded the GCoM for making the timely corrections.