Han announces former premier Chang as running mate (update)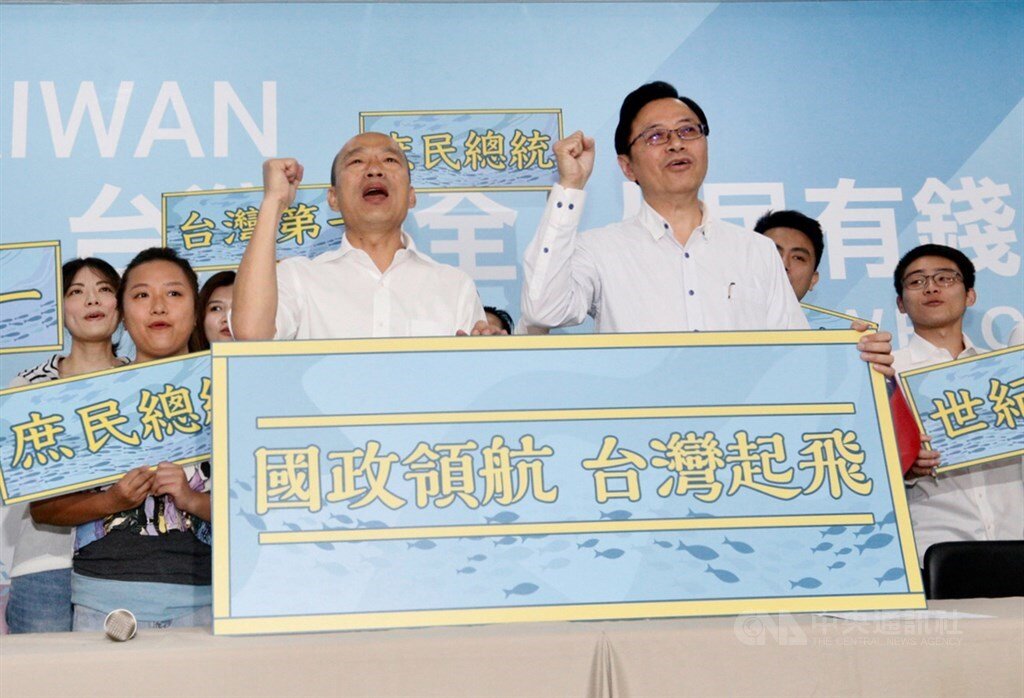 Taipei, Nov. 11 (CNA) Han Kuo-yu (韓國瑜), Kaohsiung mayor and presidential candidate of the opposition Kuomintang (KMT), announced former Premier Chang San-cheng (張善政) Monday as his running mate for the 2020 presidential election in which he faces incumbent Tsai Ing-wen (蔡英文) of the Democratic Progressive Party (DPP).
Chang, a blue-leaning independent, who is widely considered a non-traditional politician with much experience running private sector businesses, served as premier from February to May 2016 during the Ma Ying-jeou (馬英九) administration.
He worked at Google Inc. as head of tech for the firm's hardware operations in Asia from 2010 to 2012, directly reporting to the U.S. tech giant's headquarters.
Chang had the highest approval rating of any premier, during Ma's presidency from 2008-2016.
Chang, born in 1954, obtained his master's degree in civil and environmental engineering from Stanford University 1977, and received a doctoral degree in civil and environmental engineering from Cornell University in 1981.
In July, Chang, who announced a presidential bid in February, accepted an invitation to head Han's team of national policy advisers.
At the press conference where Han made the announcement, Chang said as Han's running mate, he expects the ticket to help Taiwan return to a better political environment, alluding to the recent bickering between blue and green camps.
"I am an independent and have no sense of political color in Taiwan," Chang said. "I have only a sense of right and wrong."
"When I was premier, I tried hard to provide as much assistance as possible to the heads of DPP-ruled counties and cities, as a way of building a more harmonious environment for local politics," Chang said.
Han said the former premier was his top choice for running mate, adding that Chang established close ties with grassroots people in Taiwan during his tenure.
"When I was president of Taipei Agricultural Products Marketing Corp., despite being premier Chang even pulled on rain boots to survey markets in the morning with our company and we ate clay oven rolls and deep-fried dough sticks as breakfast," Han said.
"I have always respected Chang and am grateful that he accepted the invitation to be my running mate," Han said.
Chang said his willingness to work with Han is aimed at unseating Tsai, who he said has nothing but empty words and is incapable of running the country without leaving a huge debt for the next generation to pay.
"Tsai is using fake democracy to disguise a green dictatorship," Chang said. "If Tsai is given another four years as president, Taiwan will be exhausted."
"Han has a strong team of national policy advisors and a Han administration would be far better than Tsai's government," Chang said.
Chang touted his technology background, saying he expects to help the country upgrade its industries at a time when Taiwan is gearing up to improve the economy through smart technology development.
Chang said he is aware the country needs to work hard at developing technology and cultivating technological talent to facilitate innovation and transform the economy.
Commenting on Han's selection of a running mate, the KMT issued a statement, saying Chang has a strong resume in academia, business and politics, and that the two men complement each other well.
"Chang demonstrated his enthusiasm and love for Taiwan as premier," the KMT said. "The Han-Chang ticket is expected to boost the KMT's chance of winning the presidential election."
KMT legislative caucus whip Tseng Ming-chung (曾銘宗) gave a thumbs-up to Han's selection of Chang, describing Chang as a person of excellent character, with comprehensive academic, business and political experience.
Agreeing with Tseng, KMT Legislator Lin Wei-chou (林為洲) said Chang is expected to attract well educated voters with a vision of the country's economy.
Lee Yen-hsiu (李彥秀), another KMT lawmaker, said Chang has a global view and is capable of coordinating people working together so he is expected to help Han execute his national policies, while KMT lawmaker Apollo Chen (陳學聖) anticipates Chang will help Han garner more votes, describing the two as a "dream team."
Meanwhile, Tsai's campaign office declined to comment on Han's selection of Chang as his running mate, but expressed hope that Han will provide more details on policies related to national development and administration, and answer questions relating to his capability.
DPP spokesman Wu Jun-yen (吳濬彥) said it is not surprising Han picked Chang, who he said would be a better presidential candidate than Han because he is the one who heads the team of advisors that has had to deal with problems caused by Han's lack of familiarity with national affairs.