Terry Gou will not work with PFP head to vie for presidency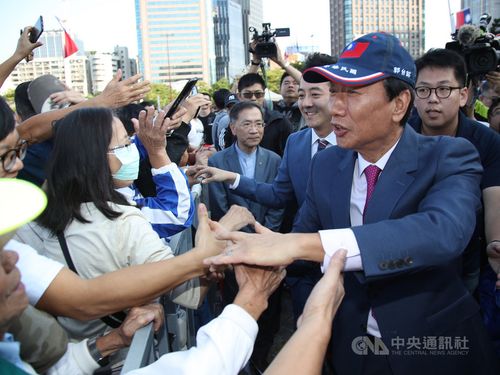 Taipei, Oct. 10 (CNA) Hon Hai Precision Industry Co. founder Terry Gou (郭台銘) said Thursday that he will not work with People First Party (PFP) Chairman James Soong (宋楚瑜) to seek the presidency in 2020, ending rumors that he would do so to forge a third force in the coming presidential race.
"I've given up my 2020 presidential bid and I see no need to collaborate with Soong. Neither will I form a political party," Gou said when asked about his plans by reporters on the sidelines of national day celebrations hosted by the Taipei City government in the plaza of city hall.
Gou's comments ended speculation that he, Soong and Taipei Mayor Ko Wen-je (柯文哲), an independent, would work together to provide voters with an alternative to the ruling Democratic Progressive Party and the main opposition Kuomintang (KMT) in the upcoming presidential and legislative polls.
Despite Gou ruling out the idea that he will seek the presidency, however, he admitted that he will join forces with Ko, who established the Taiwan People's Party in August, to grab more legislative seats with the aim of improving the quality of the country's legislation.
Gou, a former KMT honorary member, resigned from the party in September after losing to Kaohsiung Mayor Han Kuo-yu (韓國瑜) in the party's presidential primary in July.
Since then, speculation has been rife that Gou, Ko and most recently Soong, would cooperate to counter the DPP and KMT in the elections.
Soong, meanwhile, has remained tight-lipped about whether he will run for president next year, although PFP Secretary-General Lee Hung-chun (李鴻鈞) stressed that the party will definitely field someone to take part in the race.
According to Lee, Soong will examine the issue carefully before coming up with a decision by the end of this month.
Now with both Gou and Ko, who has broken his association with the DPP, having dropped their presidential bids, pressure on the KMT and DPP has eased that their votes could be split, observers said.
The observers said it remains to be seen whether Gou and Ko will really lure away voters from the pan-blue KMT camp and the pan- green DPP camp in the competition for regional and at-large legislative seats.