Japan will seek support for Taiwan's CPTPP bid: parliamentarian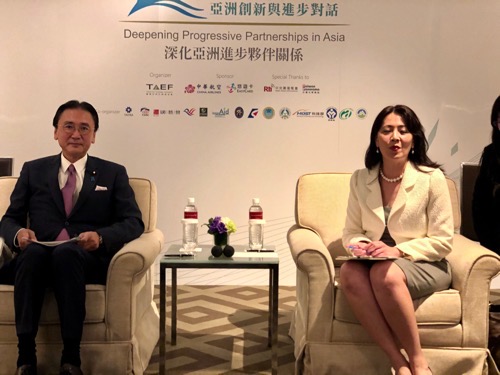 Taipei, Oct. 9 (CNA) Japan will seek support from other countries for Taiwan's efforts to join the Comprehensive and Progressive Agreement for Trans-Pacific Partnership (CPTPP), a visiting Japanese parliamentarian said in Taipei Wednesday.
Keiji Furuya, member of Japan's House of Representatives, said Taiwan is eligible to gain entry to the CPTPP trade bloc, given its economic power and its membership in the Asia-Pacific Economic Cooperation group and the World Trade Organization.
"Japan will fully support Taiwan's bid to participate in the CPTPP," Furuya said. "We will do so by seeking support from like-minded countries."
However, he did not say which countries Japan would approach to help back Taiwan's bid to join the trade bloc.
The Japan-led CPTPP, which grew out of the Trans-Pacific Partnership after the U.S. walked away from the pact in January 2017, represents a market of 500 million people and accounts for 13.5 percent of global trade.
Furuya said that while the CPTPP is bound to liberalize trade, it aims to establish fair norms in a new era in the vast market, and Taiwan's involvement will play a beneficial role.
"Taiwan has made various contributions to the international community, and we wholeheartedly welcome Taiwan to join the CPTPP," said Furuya, a member of the National Diet of Japan. Taiwan has been trying to join the CPTPP since negotiators from the 11 signatories to the CPTTP agreed on July 19 last year to start accession talks with potential new members in 2019.
The 11 signatories are Australia, Brunei, Canada, Chile, Japan, Malaysia, Mexico, New Zealand, Peru, Singapore, and Vietnam.
Meanwhile, Furuya said he will be representing Japan at Taiwan's National Day celebrations on Thursday and will also join the parade.
During the parade, merchandise for the 2020 Tokyo Olympics will be displayed, in an effort to attract Taiwanese visitors, Furuya said in speech at the Yushan Forum that was organized by the Taiwan-Asia Exchange Foundation.
Now in its third year, the annual conference was first launched in 2017 to promote Taiwan's regional status and support the government's efforts to forge a broader relationship with the target countries in its New Southbound Policy.