KMT wants foreign minister sacked over cutting of Kiribati ties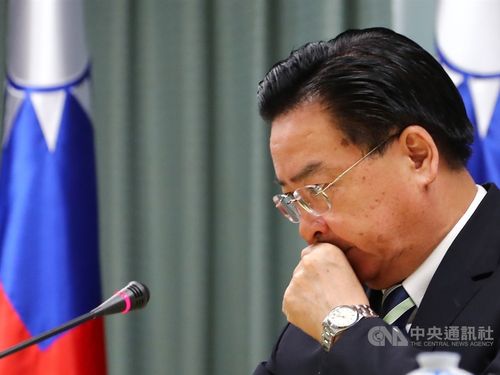 Taipei, Sept. 20 (CNA) The main opposition Kuomintang (KMT) demanded Friday that President Tsai Ing-wen (蔡英文) sack Minister of Foreign Affairs Joseph Wu (吳釗燮) and other responsible officials, after Taiwan lost its second diplomatic ally in less than a week.
"Wu and other officials responsible for the issue should be replaced immediately," the KMT said in a press release.
"If Taiwan's international space continues to be squeezed, it will jeopardize Taiwan's normal development of foreign relations, the party stressed.
According to the KMT, Wu asserted during a legislative hearing in May that "no diplomatic partners will cut ties with Taiwan this year."
Just a few months later, however, two allies have severed diplomatic relationships with Taiwan within five days, which the KMT argued can be ascribed to a lack of information or negligence, and the officials responsible should be dismissed at once.
Over the past three years since Tsai assumed office in May 2016, Taiwan has lost seven of its diplomatic allies -- including the Solomon Islands and Kiribati this week, the KMT said.
Instead of coming up with a solution, Tsai has passed the buck to China and accused Beijing of "trying to meddle in Taiwan's elections" so as to shift public attention away from her ineptitude on the diplomatic front, according to the KMT.
The KMT said that Tsai's attempts to peg Taiwan's diplomatic setbacks to the January 2020 presidential election are aimed at creating a hostile atmosphere toward China in order to win gains in the coming presidential race.
Earlier Friday, Wu said in a news conference that Taiwan was cutting ties with Kiribati because the South Pacific nation had decided to switch diplomatic allegiance to Beijing, after its request for a donation of US$36 million to help it purchase a commercial aircraft was rejected by Taipei.
While Taiwan offered to grant Kiribati a special low-interest loan for the purchase, China reportedly promised to give it two commercial planes for free.
Wang Ting-yu (王定宇), a lawmaker of the ruling Democratic Progressive Party (DPP) and convener of the legislature's Foreign Affairs and National Defense Committee, called the move part of China's strategy to influence Taiwan's elections while encouraging those who advocate the "one China" framework in Taiwan.
China is also seeking to shift public attention from the turmoil in Hong Hong and is trying to build a strategic base as part of its expansionist efforts in the South Pacific, Wang said.
KMT legislative caucus whip William Tseng (曾銘宗), meanwhile, said he is worried that a string of termination of official ties will occur between Taiwan and its remaining 15 diplomatic allies following the severance of ties with the Solomon Islands and Kiribati.
Tseng also warned that China's systematic poaching of Taiwan's diplomatic partners will not be good for cross-Taiwan Strait relations.
New Power Party (NPP) Chairman Hsu Yung-ming (徐永明) warned that Kiribati will not be the last of Taiwan's allies to be targeted in China's bid to isolate Taiwan in the international community, and urged the government to come up with countermeasures against China's diplomatic offensive.