U.S. vice president confirms cancellation of Solomons meet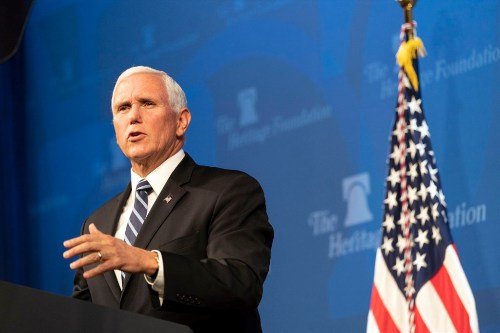 Washington, Sept. 18 (CNA) The Office of U.S. Vice President Mike Pence confirmed to CNA Wednesday that he had canceled a plan to meet with Solomon Islands Prime Minister Manasseh Sogavare after the latter decided to cut ties with Taiwan earlier this week.
"I can confirm that the Vice President has canceled his meeting with the Solomon Islands," a personnel from the office said in an email reply.
Reuters said the cancellation was due to Sogavare's decision to cut ties with Taiwan.
A senior U.S. government official, speaking on condition of anonymity, told Reuters that Sogavare had originally asked Pence in July for a meeting, which was scheduled to take place this month on the sidelines of the United Nations General Assembly meeting in New York, or afterward in Washington.
"But the decision by the Solomon Islands to change its diplomatic recognition from Taiwan to the People's Republic of China has consequences. They're hurting a historically strong relationship by doing this," the official told Reuters.
"It's a setback, and it is prioritizing short-term gain with China over long-term commitment with the U.S.," the official added.
Taiwan cut diplomatic ties with the Solomon Islands Monday when the South Pacific island-nation decided to switch diplomatic recognition from Taipei to Beijing.
Earlier that day, the Solomon Islands' Democratic Coalition Government for Advancement voted 27-0, with six abstentions, to establish diplomatic ties with China. The decision was later approved by Sogavare's Cabinet.
The U.S. has since several times expressed its disappointment over the matter.
The American Institute in Taiwan, which represents U.S. interests in Taiwan, said the U.S. is "exploring a variety of options with regard to how to respond," without further elaboration.
A senior official in the U.S. Agency for International Development (USAID) said Wednesday that Washington is reassessing its assistance to the Solomon Islands after the diplomatic switch.
The Solomon Islands is the sixth diplomatic ally Taiwan has lost to China since President Tsai Ing-wen (蔡英文) of the Democratic Progressive Party assumed office in May 2016.
Beijing has taken a hardline stance on cross-Taiwan Strait relations since Tsai has refused to accept the "1992 consensus," a tacit understanding reached in 1992 between the then-ruling Kuomintang (KMT) government of Taiwan and the Chinese government.
Under the consensus, both sides of the Taiwan Strait acknowledge that there is only "one China" with each side free to interpret what "China" means, according to the KMT's interpretation. However, Beijing has never publicly recognized the second part of that interpretation.