US to review reasons for Solomon Islands' diplomatic switch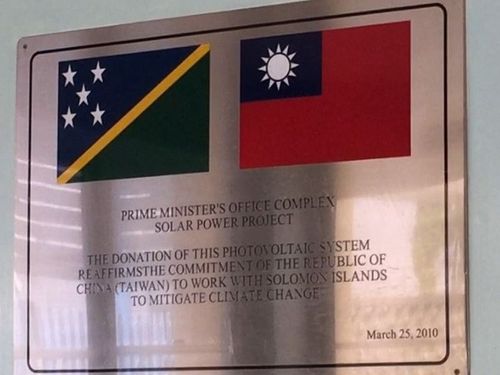 Washington, Sept. 17 (CNA) The United States opposes China's destabilization of peace and stability in the Taiwan Strait and will look into the the reasons the Solomon Islands' decided Monday to change allegiance from Taipei to Beijing, a senior U.S. official told CNA Tuesday.
Taiwan cut diplomatic ties with the Solomon Islands on Monday after the South Pacific island-nation decided to switch diplomatic recognition from Taipei to Beijing. The severing of ties leaves Taiwan with only 16 diplomatic allies.
Asked about the U.S. stance on the matter, a senior U.S. administration official told CNA Tuesday that Washington is disappointed with Beijing's repeated efforts to take away more of Taipei's diplomatic allies.
"Rather than engaging in dialogue and reconciliation with Taiwan's elected leadership, Beijing has chosen to constrict Taiwan's global space and engage in a counterproductive attempt to interfere in Taiwan's democratic processes," the unnamed official said in an email.
"The United States opposes Beijing's destabilization of peace and stability in the Taiwan Strait and will carefully assess the actions that led to the Solomon Islands government's decision,"the official continued.
"Actions and policies that foster corruption, subvert democratic institutions, and undermine national sovereignty are incompatible with the vision of a free and open Indo-Pacific as well as antithetical to the values the United States and its partners share with the Pacific Island nations," the official added.
Meanwhile, the American Institute in Taiwan (AIT), which represents U.S. interests in Taiwan in the absence of official diplomatic ties, told CNA that Washington has continued to express concern over the matter to Beijing.
"We continue to have an interest in cross-strait peace and stability. Stable cross-strait ties have brought enormous benefits to both sides of the Taiwan Strait and the region," AIT commented.
After reiterating U.S. adherence to its One China Policy, based on the Three Joint Communiques and the Taiwan Relations Act, AIT also said the U.S. is "exploring a variety of options with regard to how to respond," without further elaboration.
The Solomon Islands is the sixth diplomatic ally Taiwan has lost to China since President Tsai Ing-wen (蔡英文) assumed office in May 2016.
Beijing has taken a hardline stance on cross-strait relations since Tsai refused as president to accept the "1992 consensus," a tacit understanding reached in 1992 between the then-Kuomintang (KMT) government of Taiwan and the Chinese government.
Under the consensus, both sides of the Taiwan Strait acknowledge that there is only "one China" with each side free to interpret what "China" means, according to the KMT interpretation. However, Beijing has never publicly recognized the second part of that interpretation.