Taiwan to send agricultural delegation to Mississippi next month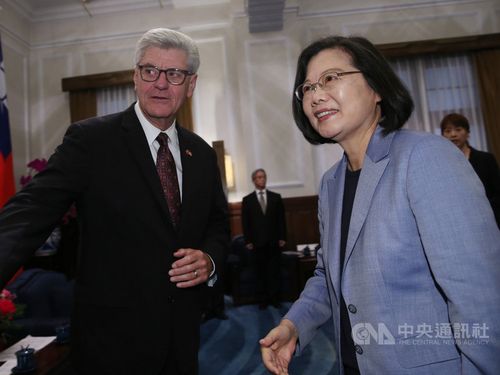 Taipei, Aug. 27 (CNA) Taiwan will send an agricultural delegation to the state of Mississippi next month to enhance bilateral relations with the U.S. agricultural powerhouse, President Tsai Ing-wen (蔡英文) said Tuesday when she met with visiting Mississippi Governor Phil Bryant.
Welcoming the governor, who is visiting the country for the first time, President Tsai said Taiwan and Mississippi have maintained close relations since establishing sister-state relations in 1983.
"In addition to our longstanding friendship, we share close commercial ties, and our bilateral trade surpassed US$400 million in 2018," Tsai said.
The trade numbers make Taiwan Mississippi's 10th largest trading partner in Asia.
Praising Mississippi as an American agricultural powerhouse, the president said Taiwan will send an agricultural mission to the state in September for closer exchanges.
Aside from its traditional strength in agriculture, Mississippi is also developing other sectors, including aerospace, automobiles, advanced manufacturing, healthcare, energy, and shipbuilding, Tsai said.
All these sectors align with Taiwan's ongoing "five plus two" innovation program, creating more room for potential cooperation with Mississippi, she noted.
The "five plus two" industries include green energy technology, the development of an Asian Silicon Valley, biomedicine, intelligent machinery, national defense and aerospace, plus the development of a new agricultural paradigm and circular economy.
The trade delegation led by Bryant is visiting Taiwan from Monday to Wednesday to promote bilateral exchanges in agriculture, biomedicine, machinery manufacturing and cybersecurity, according to a foreign ministry press release.
Taiwan and Mississippi inked a reciprocal driver's license agreement in 2014. Other exchanges include cooperation on education and talent recruitment, said the press release.