Lai urges support for 'strongest DPP candidate' in primary poll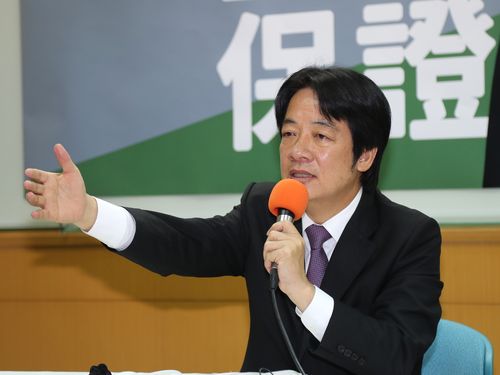 Taipei, June 1 (CNA) Former premier Lai Ching-te (賴清德) on Saturday called on Democratic Progressive Party (DPP) supporters to show their "staunch support" for him in the party's upcoming primary poll, saying he is the DPP's strongest candidate and is most capable of defending Taiwan's sovereignty.
"I am the DPP's best option because I can beat the opposition Kuomintang's (KMT) candidate. Such view is shared by many members of society and demonstrated in various opinion polls," Lai said at a press conference in Taipei on Saturday, two weeks before the DPP is set to conduct its presidential primary poll from June 10 to 14.
Lai said he was better equipped than both independent Taipei Mayor Ko Wen-je (柯文哲) and Kaohsiung Mayor Han Kuo-yu (韓國瑜) of the KMT in safeguarding Taiwan's sovereignty.
Ko's strategic response to Chinese President Xi Jinping's (習近平) plan to implement the "one country, two systems" formula in Taiwan is merely to "remain silent," as he has stated in the past two days, Lai said.
On the other hand, during his March meeting with China's Taiwan Affairs Office Director Liu Jieyi (劉結一) in Shenzhen, Han did not dare to raise objections to the "two systems" formula, nor reiterate the KMT's oft-stated belief that there is room for different interpretations of what "China" means, he said.
Lai was referring to the contentious "1992 consensus," a tacit understanding reached in 1992 between the then-KMT government of Taiwan and the Chinese government.
The consensus has been consistently interpreted by the KMT as both sides of the Taiwan Strait acknowledging there is only "one China," with each free to interpret what "China" means. However, Beijing has never publicly recognized the second part of the KMT interpretation.
Lai said another area he will fare better than Han and Ko is governing the country, given that he has accumulated abundant experience serving as premier, Tainan mayor and a lawmaker.
Han has served as a mayor for less than six months and has not yet demonstrated his ability to govern a city, let alone the entire country, Lai said.
The fact that Ko received the highest disapproval rating in a recent poll for his performance among the six special municipality mayors "serves as an indicator that his presidency would only be riddled with problems," Lai added.
Lai said if elected president, he will endeavor to defend Taiwan's sovereignty, to safeguard its democracy, freedom and rule of law, to facilitate the nation's economic development, to seek cross-strait peace, and to protect Taiwanese people's right to "decide their own future."
He also pledged to ensure that Taiwan plays an active role in the Asia-Pacific region and is able to develop in the international community with dignity.
"When you receive a call between June 10 and June 14, please safeguard Taiwan, its freedom and democracy by loudly stating: 'I firmly support Lai Ching-te,'" he said.
Meanwhile, commenting on her party's primary, President Tsai Ing-wen (蔡英文), who is seeking re-election, said Saturday that she has spent the past three years laying a solid foundation and now is the time for her policies to yield results, which she said is why her public approval ratings have been climbing steadily.
As long as the ruling party stays united, the DPP administration will be able to present more achievements to the Taiwanese people and in turn become stronger, she told reporters during a visit to Changhua County.
She said she is confident that her administration will be a success, so will her re-election bid in 2020.
Following weeks of controversy, the DPP's Central Executive Committee on Wednesday finally reached a decision to incorporate cellphone interviews into its presidential primary poll, with samples collected via cellphones and landlines carrying equal weight.
The poll will be conducted in a three-way manner and will compare the popularity of Lai and Tsai against the popularity of Ko and Han, who are considered to be the two strongest potential presidential candidates if they enter the race.
A televised policy presentation has been planned for Lai and Tsai on June 8 to allow them to explain their platforms to supporters before the poll begins.