Taiwanese graduate waves ROC flag at U.S. Air Force Academy ceremony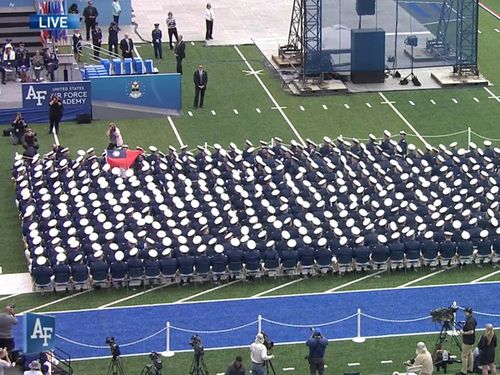 Taipei, June 1 (CNA) A Taiwanese graduate waved the Republic of China flag at the commencement ceremony of the U.S. Air Force Academy (USAFA) in Colorado on Thursday, according to a video released by the academy.
There were 991 graduates from the U.S. and 10 foreign nations in the USAFA Class of 2019, and a Taiwanese graduate stood and waved Taiwan's national flag in the crowd of graduates when the USAFA Dean of the Faculty Andrew Armacost recognized the nation in the commencement, the video shows.
It is unclear how many Taiwanese cadets are in this year's USAFA graduating class. Taiwan's Ministry of National Defense (MND) did not confirm the exact number of Taiwanese graduates by late Friday evening.
The other foreign nations with graduates in the 2019 class included: Kazakhstan, Korea, Romania, Rwanda, Sri Lanka, Thailand, the Philippines, Singapore and Tunisia.
Taiwan's flag is also present in a photo taken during the commencement ceremony, in which U.S. President Donald Trump poses with other graduates, according to the Instagram page of the White House.
For decades, Taiwan has been sending its military personnel to the United States for advanced study or training.
In the absence of official diplomatic ties between the U.S. and Taiwan, such programs were rarely made public until recently.
In April, the U.S. publicly mentioned its training of Taiwanese pilots, when it announced a US$500 million package meant for "the continuation of a pilot training program and maintenance/logistics support for F-16 aircraft currently at Luke Air Force Base, Arizona."
The MND later posted a video on its Facebook page, showing Taiwanese F-16 pilots in training at Luke Air Force Base in 1997, which was regarded as a highly sensitive operation at that time.