Premier warns household registration staff to avoid discrimination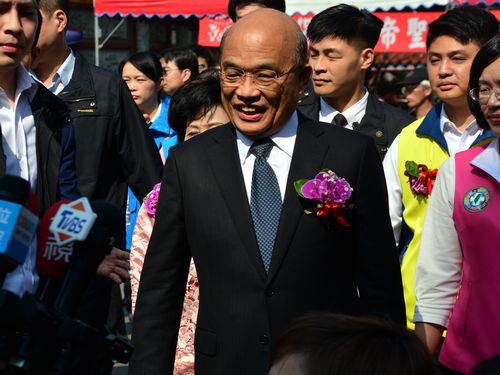 Taipei, May 23 (CNA) On the eve of Taiwan's legalization of same-sex marriage, Premier Su Tseng-chang (蘇貞昌) warned household registration office staff Thursday to avoid making discriminatory remarks or conduct toward gay couples registering their marriages.
Su made the remarks at a weekly Cabinet meeting, one day before the recently passed same-sex marriage bill, titled the Enforcement Act of Judicial Yuan Interpretation No. 748, is set to take effect.
President Tsai Ing-wen (蔡英文) signed the bill into law Wednesday.
"I would like to ask public servants to lead by example. Regardless of what your religion is and the values you believe in, please treat every couple registering for marriage equally and give them your blessing when providing relevant administrative services," Su said at the meeting. "Do not exhibit discriminatory behavior or rhetoric of any kind."
Su also instructed the Ministry of Education to ensure that school textbooks and teaching staff take into consideration the same-sex marriage act and convey an accurate concept of gender equality.
The government must take the initiative to build an environment friendly to all, he added.
In an attempt to assuage the concerns of conservative Taiwanese, Su said the new legislation will not affect the marriage rights of heterosexual people.
"No matter what your sexual orientation may be, we all belong to the same country and all live on the same land and under the same sky," Su said. "Only when we can tolerate and respect each other's differences can Taiwan become a country of mutual respect and friendliness."
Asked whether public servants will be punished for discriminating against gay people and if the government will revise school curricula, Cabinet spokeswoman Kolas Yotaka said those issues were not discussed at the meeting.
Under the Enforcement Act of Judicial Yuan Interpretation No. 748, two people of the same gender aged 18 or older are allowed to register for marriage, with at least two witnesses signing the registration document.
According to Deputy Interior Minister Chen Tsung-yen (陳宗彥), as of May 17, a total of 289 gay couples had made reservations to register their marriages on the first day same-sex marriage becomes legal in Taiwan.
The actual number is expected to be much higher, as the ministry has stopped counting due to the significantly increased workload on household registration employees, who have been racing against the clock to put in place necessary legal mechanisms for gay marriage, Chen told CNA.
However, the marriage registration form provided by the Ministry of the Interior is titled "same-sex marriage registration form," which has raised questions of whether it is necessary to specify "same-sex" in the document.
Wang Hung-zen (王宏仁), a professor at Sun Yat-Sen University in Kaohsiung, said in a post on Facebook Thursday that the regular marriage registration form does not specify that the form is for heterosexual couples only.
When asked by ruling Democratic Progressive Party Legislator Yu Mei-nu (尤美女) if it would be acceptable to the household registration office if same-sex couples present their own version of their marriage registration form that removes "same-sex" from the document, Minister of the Interior Hsu Kuo-yung (徐國勇) said this would be acceptable.