Taiwanese will start tasting fruit of government policies: Tsai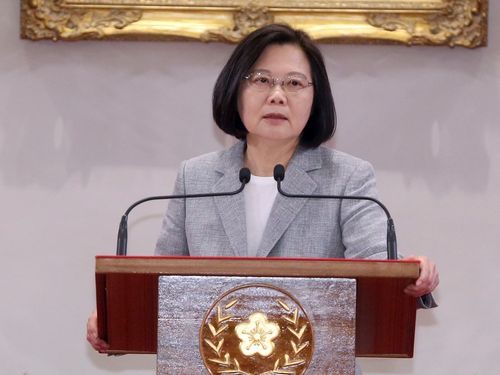 Taipei, May 20 (CNA) President Tsai Ing-wen (蔡英文) said Monday that Taiwanese will soon start reaping the benefits of her administration's various policies, which has taken a while because it usually requires years for a good policy to deliver results.
At press conference at the Presidential Office, Tsai listed some of her achievements over the past three years and outlined her plans for the future.
She said her administration's hard work since she took office in 2016 has resulted in salary hikes and tax cuts, investment expansion, industrial upgrade, pension reform, long-term and nursery care, and social housing.
Meanwhile, the country is moving toward realizing the goals of a nuclear-free homeland, green energy, self-reliant defense, and better protection of national sovereignty, Tsai said.
"The government's experience with wind power and tax reform has demonstrated two things," said Tsai. "First, this administration does not aim for short-term results and instead focuses on long-term planning. Second, it normally takes three years for an important policy to bear fruit, and until that happens, a leader must endure isolation."
The wind farm project got off the ground last Saturday after more than a decade of talks on moving Taiwan toward renewable energy, while the tax cuts that took effect this year were the result of three years of planning, Tsai said.
The tax cuts are expected to benefit many salaried employees during this year's tax filing season, which is the month of May.
The president said that since she took office three years ago, she has been under tremendous pressure. Even some of her friends have called her "stupid" because she has tackled issues that most of her predecessors had sidestepped for fear of alienating voters, she said.
"But I must say, what needs to be done, needs to be done," Tsai said.
While the implementation of many of those unavoidable policies has come at a steep political price, she said, the nation would have been stagnated if she had opted to execute only polices that deliver quick results.
The worst possible thing a leader can do is leave the tough decisions and tasks to his or her successor, said Tsai, who is hoping to gain a second term in office when elections are held next January.
With a little more patience, "you will see what we have done is far more than you could have imagined," she added, addressing voters who she said may have been disappointed with her administration.
"Meanwhile, those of you who have been rooting against Taiwan for the past three years, I want to tell you that you will not prevail," Tsai said.
Regarding her administration's future policies, Tsai said one of the goals is to upgrade the Made in Taiwan (MIT) brand so that it will no longer revolve around just components and the original equipment manufacturer (OEM) business model.
"Instead, we want to build a new economic model, based on artificial intelligence, green energy and high tech, to make the best products and create the best future for mankind," the president said.
She also said that if she is reelected, she will hold a "Taiwan Expo" to display to the world the upgraded MIT brand and Taiwan's soft power and help expand opportunities for Taiwanese businesses.
"It has been my greatest honor to lead this country," Tsai said, pledging to continue her efforts to transform and upgrade Taiwan and continue to fight in her next term for the people's welfare and security.