President cites accomplishments on eve of 3rd anniversary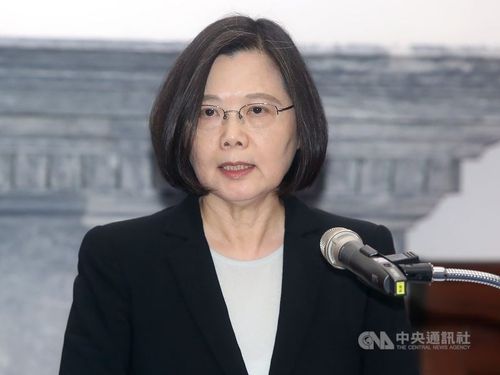 Taipei, May 19 (CNA) President Tsai Ing-wen (蔡英文) cited her accomplishments Sunday, on the eve of her third anniversary as the country's leader, while urging the voters to give her more time to transform Taiwan for the better.
During a visit to the southern municipal city of Kaohsiung, Tsai, who was inaugurated as president May 20, 2016, told reporters that her team has been working hard over the last three years in laying the foundations for the country's growth.
Asked how she rates her performance over those years, Tsai said presidents usually don't rate themselves. However, she added, recent surveys show that public satisfaction with her and her team has been increasing.
Tsai said she has done things that her predecessors were not able to do and that although some sectors have been affected by reforms, the foundation for the country's development has been laid after three years.
She went on to list her accomplishments, among them the indigenous submarine project, investment promotions, tax reductions and the protection of farmers.
Regarding the submarine project, in which Taiwan will build its own subs, Tsai said the military has exerted a lot of effort to come up with the design of the submarine, and noted that the shipyard broke ground in Kaohsiung May 9.
The project is very important for Taiwan's national defense because it has to pursue an asymmetric defense strategy against China, Tsai said, stressing that the project will also be beneficial to Kaohsiung's shipbuilding and other related industries over the next decade.
On promoting investment, Tsai noted that overseas Taiwanese businessmen have poured more than NT$280 billion (US$8.9 billion) into Taiwan since January, NT$70 billion of which has been invested in Kaohsiung.
A "next generation hi-tech corridor" extending from Tainan Science-based Industrial Park all the way to Ciaotou District in Kaohsiung will be established, Tsai revealed, as total investment from Taiwanese expatriates is expected to reach NT$500 billion this year.
Tsai said it is hoped that the technology corridor will revive Kaohsiung's economy and allow younger generations to stay in their hometown without the need to seek jobs in other cities.
She also vowed to improve farmers' livelihoods by providing subsidies amid crop failures and extending insurance coverage on health, lost crops and occupational injuries to farmers.
Another initiative of the government is to create a "farmer pension fund" to safeguard farmers' lives when they retire, she added.
If she is given more time, Taiwan will become very different from one before, Tsai said. It will become a country able to defend itself and be respected in the international community.
Tsai is seeking re-election in the 2020 presidential election.