Terry Gou supports cellphone polling for KMT primary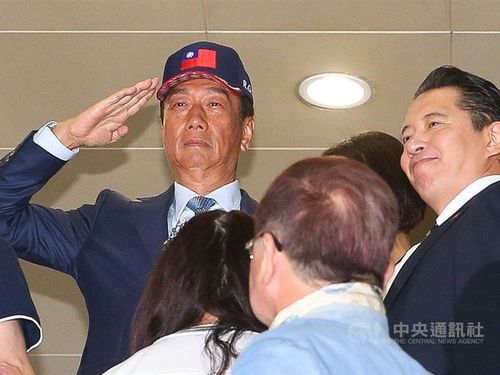 Taipei, May 13 (CNA) Opposition Kuomintang (KMT) presidential hopeful Terry Gou (郭台銘) said Monday that the party should incorporate cellphone interviews in polls conducted to nominate a presidential candidate, bucking the party's stated position.
The KMT announced on two occasions earlier this month that it would rely on landline polling for its presidential primary, but Gou, the chairman of iPhone producer Foxconn Technology Group, advocated contacting cellphone numbers as well.
As to what percentage of the poll should be done through cellphone interviews, that should be decided by the party, Gou said at a press conference after meeting with KMT Chairman Wu Den-yih (吳敦義).
The KMT has yet to finalize its primary format, but sources have indicated that it will likely resort to opinion polls only and not hold a vote of party members that would be factored into the overall results.
It is expected to hold its primary in June and announce the results in July.
Gou also said he made suggestions to the party during Monday's meeting, including requiring that each candidate abide by the party's primary provisions.
In addition, the party should hold policy presentation forums and debates so that the presidential hopefuls answer questions on national issues from party members, media representatives and the public and let voters know who is best suited to be president, Gou said.
When asked if he would step back and be a vice presidential candidate if another candidate won the primary, Gou nixed the idea, saying he has always been in charge of decision-making and is not deputy material.
He indicated, however, that he would do everything he could to help the party's nominee win the 2020 presidential election, to be held in January.
In addition to Gou, the other KMT presidential hopefuls are Kaohsiung Mayor Han Kuo-yu (韓國瑜), former New Taipei Mayor Eric Chu (朱立倫), former Legislative Speaker Wang Jin-pyng (王金平) and former Taipei County Magistrate Chou Hsi-wei (周錫瑋).
The debate over using cellphones in presidential primary polls has already surfaced in the ruling Democratic Progressive Party (DPP).
President Tsai Ing-wen (蔡英文), who is facing a rare internal primary challenge from former Premier Lai Ching-te (賴清德), asked recently that cellphone interviews be included in the DPP's presidential nomination process.
Lai quickly responded by calling the method of polling unfair and saying that the process could be vulnerable to cheating. He also questioned why the DPP would only use landline polls for its legislators' primaries but then allow cellphone interviews in the presidential primary polls.
On Monday, however, he said he could see using cellphone surveys in primary polls one or two years in the future after they have been studied scientifically.
Just like new drugs have to undergo a process to verify the predicted clinical benefits, the same is true for new polling methods, said the doctor-turned-politician.
Once the doubts regarding how the party conducts cellphone polling are cleared, the public will welcome the idea of incorporating cellphone interviews in primary polls, he said.
Tsai's campaign continued to push its position, however, with campaign chief Ruan Jhao-syong (阮昭雄) saying Monday that the voice of cellphone users should not be ignored.
Of the 18 million eligible voters in Taiwan, 5 million of them only have mobile phones, Ruan said, arguing that the best candidate can only be selected through a polling method that best reflects the opinions of the most people.
He said the DPP's national polls have incorporated cellphone interviews since 2014, though the party has not conducted any formal presidential primary polls since then.
The two candidates' positions may have more to do with political calculations than principles.
Unnamed DPP sources have been cited in both the Liberty Times and United Daily News as saying that Tsai is more popular than Lai with younger voters, who tend to use cellphones to communicate, which might be why Tsai is for cellphone polling and Lai is against it.