Model of Taiwan's first indigenous submarine unveiled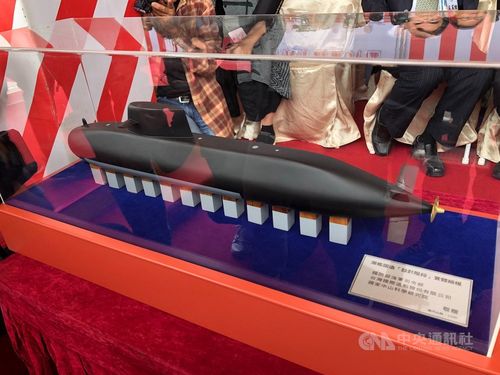 Taipei, May 9 (CNA) A miniature model of Taiwan's prototype indigenous submarine was unveiled Thursday in Kaohsiung during a groundbreaking ceremony presided over by President Tsai Ing-wen (蔡英文) for the factory that will build the nation's first indigenous submarine.
The model features an X-form rudder system instead of the traditional cross-shaped rudder.
The use of X-form rudders aims to improve underwater maneuverability, reduce collision risk when docking and lower noise from propeller flow interactions, according to F. S. Mei (梅復興), director of the U.S.-based Taiwan Security Analysis Center.
Speaking during the groundbreaking ceremony, Tsai said her administration is determined to develop indigenous defense systems and building an indigenous submarine will greatly boost the Navy's combat capabilities in asymmetrical warfare.
(President Tsai Ing-wen (蔡英文, center))
The military currently has four submarines in its fleet, two of which were purchased from the United States in the 1970s, while the other two were bought from the Netherlands in the 1980s. Due to pressure from Beijing, the Netherlands has not sold Taiwan any more since then, she noted.
"Therefore we have no other choice but to build our own indigenous submarines," Tsai said.
After overcoming challenges over the past years, Taiwan has finally obtained export permits for the key technologies needed to design its own submarines, she said, expressing hope that this first step will be a success for the project.
In his address, Cheng Wen-lon (鄭文隆), chairman of CSBC Corp. Taiwan, the country's largest shipbuilder, and builder of the submarine, said the company has assigned 116 staff to work with the Navy on the project.
The submarine factory's construction will begin later this afternoon and is scheduled to be completed next year, he noted.
The prototype submarine will be viable in five years before the first submarine is delivered a year and a half later, he said.
Taiwan's defense ministry announced in March that the contract design phase of Taiwan's first indigenous submarine project has been completed and a prototype will be ready by 2024.
The completion of the contract design was the first phase of the project, which will now move on to blueprint design, followed by construction of a prototype and mass production, according to Defense Minister Yen De-fa (嚴德發).
The government has allocated NT$49 billion over seven years to build an indigenous submarine, with the goal of boosting Taiwan's defense capabilities in the face of China's growing military strength.