Numerous Chinese military aircraft operate near Taiwan: MND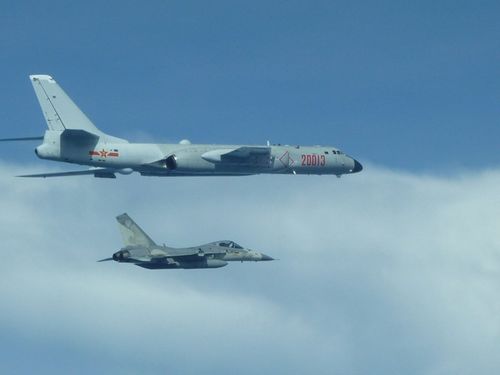 Taipei, April 15 (CNA) Numerous Chinese military fighter jets and surveillance and transport planes operated near Taiwan on Monday and were closely monitored, Taiwan's Ministry of National Defense (MND) said in a statement.
A group of planes, consisting of KJ-500 airborne early warning and control aircraft, at least one Xian H-6 bomber, Shaanxi Y-8 transport aircraft, and Sukhoi Su-30 and Shenyang J-11 fighters, flew over the Bashi Channel after taking off from southern China at around noon, the MND said.
The Bashi Channel is a waterway separating Taiwan and the Philippines.
Taiwan's military responded by sending aircraft and surveillance ships to monitor the maneuver and ensure the safety of the country's national airspace and sea areas, the MND said.
The Chinese military planes were believed to be on their way to the West Pacific Ocean for routine distant-sea exercises, according to the ministry.
All Chinese military planes returned to their base along the same route, with the exception of one Xian H-6 bomber, which returned via the Miyako Strait, a waterway that lies between Japan's Miyako Island and Okinawa Island, the MND said.
The MND described the maneuver by the Chinese military as an attempt to change the status quo in the Taiwan Strait and said it will not help in contributing to peace in the region and will hurt regional stability and safety.
According to an Institute for National Defense and Security Research report, Chinese military planes circled Taiwan a total of 20 times between November 2017 and June 2018, while China's aircraft carrier, the Liaoning, circled Taiwan a total of five times between November 2013 and April last year.
More recently on March 31, two Chinese Shenyang J-11 fighter jets crossed the median line of the Taiwan Strait in China's first incursion across the line since 1999.