Students speak out against fake news, demand fact-checking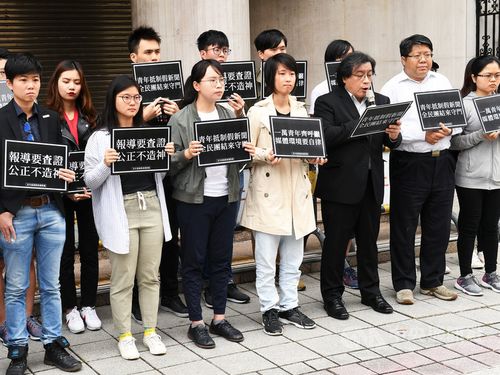 Taipei, April 13 (CNA) A group of university students joined forces Saturday to speak out in a campaign against fake news, displaying a poster-sized letter of commitment that calls on media outlets in Taiwan to adhere to the principle of fact-checking in their reporting.
The campaign was organized by a coalition of over 50 student groups from universities nationwide, led by the student associations of National Taiwan University (NTU) and National Chengchi University (NCCU).
The students formed the coalition on Freedom of Expression Day April 7, when they launched an online petition to boycott false news reports and call for stricter measures against Chinese-sponsored media campaigns.
Holding placards that read "no to biased news reports," the coalition made their demand outside the Legislative Yuan and demanded that media outlets sign a letter committing to uphold the principle of fact-checking and providing the public with correct information.
Press freedom does not mean that media outlets have the right to expose wrong things or spread false propaganda, the students said.
The coalition, meanwhile, said it will also be promoting its cause in school campuses around the country, and will work with various student associations on a campaign to boycott media outlets that continue to sell news that has not been fact-checked.
According to results of a survey released by the Professor Huang Kun-huei Education Foundation Saturday, 74.1 percent of Taiwanese believe national security is more important than press freedom, while 16.6 percent of those polled said the opposite and 9.3 percent expressed no opinion.
The survey was conducted April 1-3, with 1,072 samples collected. It had a margin of error of plus or minus 3 percentage points and a confidence level of 95 percent.