Deploying surface-to-air missiles top defense priority: Tsai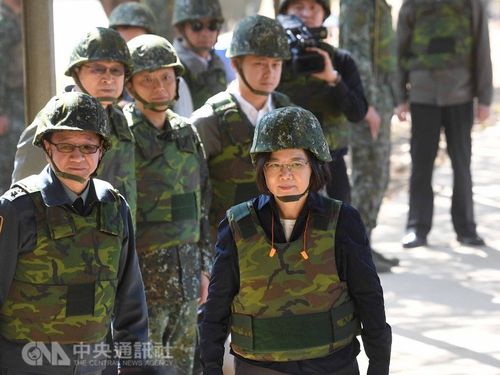 Taipei, Jan. 29 (CNA) Deploying surface-to-air missiles will be the top priority for Taiwan's military in beefing up its defense capabilities in response to China's growing threat, President Tsai Ing-wen (蔡英文) said Tuesday.
During a visit to Chengkungling military base (成功嶺) in Taichung, Tsai said she has asked the Ministry of National Defense (MND) to make it a priority to deploy more surface-to-air missiles to strengthen Taiwan's defense and counter the threat from China.
One of the surface-to-air missiles Tsai was referring to was the domestically-made Tien Kung III anti-tactical ballistic missile (天弓三型飛彈), which the president said she recently saw deployed in Hualien County.
On a previous trip to the military's top research institution, the National Chung-Shan Institute of Science and Technology (NCIST, 中山科學研究院), Tsai also focused on the importance of missiles, asking the NCIST to speed up mass production of the Tien Kung III.
Aside from the Tien Kung series of missiles, Taiwan also has U.S.-made Patriot PAC-2 and PAC-3 air defense missiles, according to the MND.
Before arriving Tuesday at the Chengkungling military base, one of the military's biggest boot camps for new recruits, the president said she also went to Taichung Ching Chuan-Kang Air Base.
In the near future, a test flight for the nation's new trainer aircraft will be staged at the base, Tsai noted.
Taichung-based Aerospace Industrial Development Corp (AIDC) is responsible for building the nation's new trainer aircraft.
AIDC is scheduled to deliver 66 advanced trainer aircraft to the government by 2026 to replace the Air Force's aging AT3 trainers and F5 fighters, according to the Ministry of National Defense (MND).
Tsai said she chose to conclude her tour at the training center in Taichung for new recruits to give a pep talk to those who chose to serve in the military and to encourage more to make the same decision.
Tuesday's trip to Taichung was part of the president's ongoing tour of military camps around the country to meet with soldiers ahead of the nine-day Lunar New Year break.