Taipower respects referendum results but will follow government policy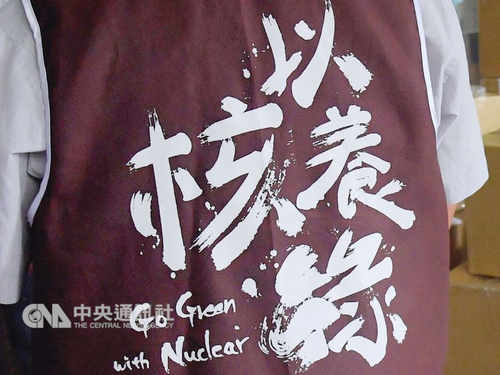 Taipei, Nov. 25 (CNA) State-owned Taiwan Power Co. (Taipower) said Sunday it respects the recent referendum results related to energy, but will still follow the policies of the government.
Taipower spokesman Hsu Tsao-hua (徐造華) made the remarks after Taiwanese voted against the government's policy of phasing-out nuclear power by 2025 in one of the 10 referendums alongside Saturday's local government elections.
CNA file photo
The No. 16 Referendum asked "Do you agree with abolishing the first paragraph of Article 95 of the Electricity Act, which means abolishing the provision that 'all nuclear-energy-based power-generating facilities shall cease to operate by 2025'?"
A total of 5,895,560 votes were cast in favor of repealing the nuclear phase-out, and 4,014,215 against the initiative, according to the Central Election Commission.
However, Executive Yuan spokeswoman Kolas Yotaka said on Sunday that the government's goal to make Taiwan a nuclear-free homeland by 2025 remains unchanged.
In practice, it may not be possible to postpone the phase-out of the No. 1, No. 2 and No. 3 nuclear plants, she added.
No. 3 nuclear plant / CNA file photo
In terms of the other two referendums on energy related issues, Hsu said the Executive Yuan, the executive branch of the government, has already announced a halt to the the expansion of the Shen'ao Power Plant in New Taipei and Taipower will fully cooperate.
Currently, Taipower does not have plans for any new coal-fired power plants or generators, Hsu said, in reference to the No. 8 referendum which asked "Do you agree that Taiwan should establish an energy policy that undertakes not to construct any new coal-fired power plants or generators or expand existing facilities (including the expansion of the Shen'ao Power Plant)?"
CNA file photo
Citing the no. 7 Referendum which asked "Do you agree the electricity output of thermal power plants should be lowered by 'at least 1 percent per year on average?'," Hsu said Taipower will also act in accordance with the government's promotion of energy transformation and the target of 50 percent natural gas, 30 percent coal and 20 percent renewable energy resources by 2025.
The Ministry of Economic Affairs' 2025 renewable targets envisage 20 gigawatts of capacity coming from solar photovoltaic (PV) panels and 5.5GW from offshore wind.