Pompeo praises Taiwan's elections as example in region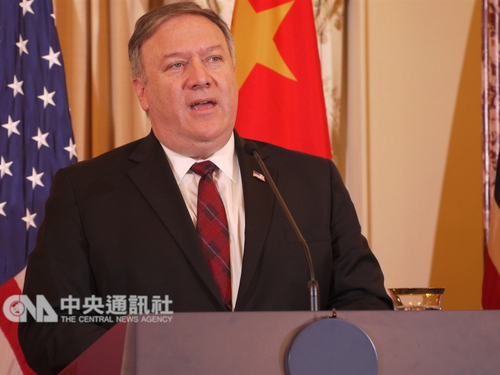 Taipei, Nov. 25 (CNA) United States Secretary of State Mike Pompeo on Saturday praised Taiwan for it's local government elections, calling them an example of democracy in action for the Indo-Pacific region.
"The United States congratulates #Taiwan on another successful round of free and fair elections. Your hard-earned constitutional democracy is an example for the entire Indo-Pacific," Pompeo said on Twitter.
In response, Taiwan's Ministry of Foreign Affairs (MOFA) retweeted Pompeo's tweet, expressing gratitude for the U.S. praise of the country.
"We thank @SecPompeo for the praise & recognition. As a beacon of freedom & democracy, #Taiwan is willing & able to share its experiences & work with like-minded countries such as the #US in advancing peace, stability & prosperity in the #IndoPacific," MOFA said on Twitter.
Earlier Saturday, the U.S. State Department also praised Taiwan on the smooth completion of the latest local 9-in-1 government elections.
"The United States congratulates the people on Taiwan for once again demonstrating the strength of their vibrant democratic system through a successful round of elections," a State Department spokesperson said in an email response to CNA.
"We look forward to working with our counterparts -- new and old -- to continue our fruitful cooperation on a wide range of issues of mutual concern," the spokesperson said.
In Saturday's elections, President Tsai Ing-wen's (蔡英文) Democratic Progressive Party (DPP) suffered a major defeat, losing seven of the 13 cities and counties it previously held.
The Kuomintang, meanwhile, won at least 15 seats, recovering strongly after being badly defeated in the 2014 local elections, when it was left in control of only six cities and counties.