Nuclear power referendum in the spotlight in televised forum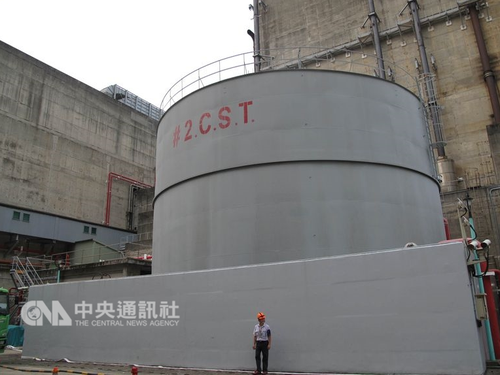 Taipei, Nov. 5 (CNA) Speakers for and against the government's policy to phase out nuclear power in Taiwan by 2025 voiced their positions in a televised forum Sunday ahead of a referendum on the issue later this month.
The referendum asks voters if they agree to abolish the first paragraph of Article 95 of the Electricity Act, which stipulates that all nuclear power generation facilities in Taiwan should cease to operate by 2025.
The clause was added to the Electricity Act in early 2017, writing into law a policy of the Democratic Progressive Party (DPP) government that took power in May 2016, but questions have since arisen if Taiwan will have enough energy to meet its needs by 2025 without nuclear power or live up to its commitments on carbon emissions.
Nuclear power supporter Liao Yen-peng (廖彥朋), a member of the Chinese Society of Medical Physics and one of the initiators of the referendum, presented the position of the "agree" side while Deputy Economic Affairs Minister Tseng Wen-sheng (曾文生) defended the government's stance.
In his prepared statement, Liao asked the public to support the continued use of nuclear energy to ensure that Taiwan does not face power shortages in the future.
He said the power outage of Aug. 15, 2017 was clear proof that the government has been lying when it says Taiwan has sufficient energy supplies and questioned how the government could make the 5 billion kilowatt-hour annual shortfall left by phasing out nuclear power.
Renewable power could generate 1 billion kwh, but he wondered where the rest would come from.
In his statement, Tseng said nuclear power is not the stable source of energy it is widely seen as being, and contended that the power outages in 2016 to 2017 in Taiwan were all caused by faults at nuclear power plants.
He said that when the August 2017 power outage hit, three of Taiwan's six operating nuclear reactors were either down for technical reasons or because one of their transmission towers was felled by a typhoon.
Liao also argued there were downsides to developing green energy.
Showing photos of Bade Pond Ecology Park in Taoyuan, he said waters in wetlands had to be drained to install renewable energy equipment, killing organisms.
Installing solar power panels over reservoirs could also be risky, he said, because the coatings on the panels are toxic and could affect the safety of the water supply.
Questioning the reliability of renewables, Liao advocated spending an additional NT$50 billion (US$1.62 billion) over the next six or seven years to complete the mothballed fourth nuclear power plant in New Taipei City's Gongliao District.
Citing Japan's decision to restore the use of nuclear power, which has lowered its electricity rates, Liao also accused the government of lying when it said nuclear power was the most expensive energy option.
Tseng questioned the wisdom of finishing the Gongliao power plant.
"Even if the plant can be completed in six or seven years, do you think it is safe to let such an old plant of more than 20 years operate," he asked.
Construction of the fourth nuclear power plant began in 1999 but was plagued by delays and opposition from environmental activists.
It was mothballed in 2014 during the administration of former President Ma Ying-jeou (馬英九) under pressure from DPP-led protests against nuclear power.
In phasing out nuclear power, the government has proposed an energy mix of 50 percent natural gas, 30 percent coal and 20 percent renewables by 2025.