U.S. mulling new warship passage through Taiwan Strait:WSJ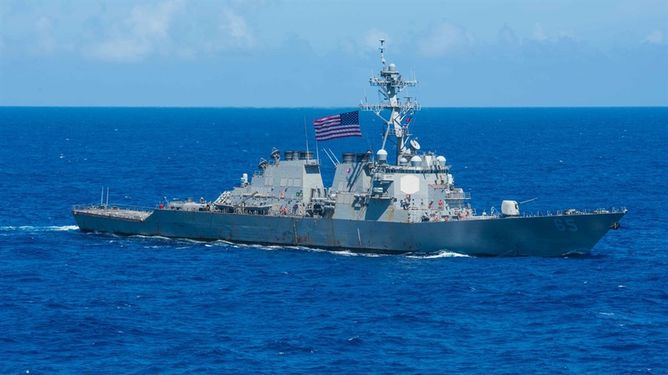 New York, Oct. 20 (CNA) The United States is considering sending naval vessels through the Taiwan Strait after two U.S. Navy ships sailed through the strait in July, sending a message to China about the U.S. military's right to travel those and any other international waters, the Wall Street Journal (WSJ) reported Saturday, citing two U.S. officials.
The operation, which is currently in the planning stage, would include at least two ships on a multi-day mission, and should it happen, will come at a time of renewed tension between Washington and Beijing, according to the officials.
The passage would also come just after U.S. Defense Secretary Jim Mattis met with regional defense chiefs in Singapore and stressed that the U.S. can sail anywhere it wants in international waters, according to the report.
"The U.S. will fly, sail and operate wherever international law allows, and we encourage all nations to confidently exercise their right to do the same," Mattis said at the ASEAN Defense Ministers' Meeting-Plus (ADMM-Plus).
U.S. Navy vessels have frequently sailed through waters in the South China Sea that China claims as its own in recent years as part of its freedom of navigation operations to challenge China's territorial claims, but they have seldom sailed through the Taiwan Strait.
While in Singapore, Mattis met with his Chinese counterpart Wei Fenghe (魏鳳和) in what he called an effort at resetting an increasingly strained military relationship between the two countries.
Relations between the U.S. and China have dramatically soured this year over trade tensions and growing friction in the political and military arenas.
This is evidenced by Washington's announcement of a planned US$330 million arms sale to Taiwan, its sanctions on the Chinese military's Equipment Development Department and its director, Li Shangfu (李尚福), for purchases of Su-35 fighter jets and S-400 surface-to-air missiles from Russia, as well as photos showing the moment when a Chinese destroyer came perilously close to a U.S. destroyer during a tense standoff in the South China Sea in late September.
The WSJ report said a U.S. Navy passage through the strait will be seen by Taiwan as a demonstration of support for the nation.
In July, two U.S. Navy ships -- the USS Mustin and the USS Benfold -- sailed through the strait, the first such passage by U.S. Navy ships in about a year, following a series of Chinese military drills around the island.
Taiwan's Presidential Office said at that time that the country attaches great importance to peace and stability in the strait and the region and that as a responsible member of the international community, will continue striving to maintain the status quo across the strait and ensure peace, prosperity and development in the Asia-Pacific region.
Meanwhile, the Ministry of Foreign Affairs said that in the face of a constantly growing military threat from China, the government will speed up its investment in national defense and strengthen its self- defense capabilities.
A Reuters report Saturday also cited U.S. officials as saying that Washington is considering a new operation to send warships through the Taiwan Strait, a mission aimed at ensuring free passage through the strategic waterway but which risks heightening tension with China.