EU supports Taiwan's role on world stage: representative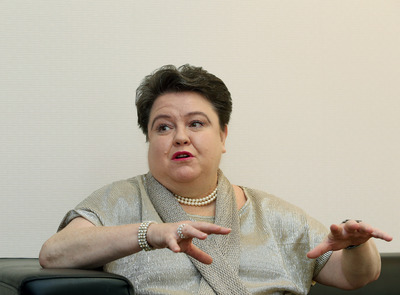 Taipei, Aug. 25 (CNA) The European Union continues to support Taiwan's participation in international fora in which the country can contribute and hopes that the two sides of the Taiwan Strait will refrain from taking action that will intensify regional tension, EU Representative to Taiwan Madeleine Majorenko said.
The EU strongly believes that "Taiwan should be able to play a useful part in the international community," Majorenko, head of the European Economic and Trade Office in Taiwan, said in an interview with CNA Friday.
Majorenko made the remarks when she was asked to comment on China's recent ramped-up efforts to squeeze Taiwan diplomatically.
"It's important for us that where Taiwan has something to add to the global discussion that Taiwan can be part of that global discussion. And for this reason we have supported Taiwan's participation in international fora where Taiwan has something to add," she said.
Citing public health challenges faced by the World Health Organization (WHO) as an example, Majorenko said that Taiwan has scientific and medical knowledge in this area and that it should be included in global cooperation in the event of epidemic outbreaks.
"Taiwan should be there. It is as simple as that," Majorenko said. "We make this case in the organization itself and we make the case globally when we are speaking to our other partners that this should be the case."
The WHO has withheld its invitation to Taiwan since 2017 to participate as an observer in the World Health Assembly, the annual gathering of its decision-making body, because of Beijing's objections, breaking from the practice from 2009 to 2016, when invitations were sent to Taiwan during the former Kuomintang (KMT) administration.
On the latest example of China's suppression of Taiwan that has persuaded El Salvador to switch allegiance from Taiwan to China, Majorenko said that both sides of the Taiwan Strait should refrain from taking steps that will increase tension in the region.
Nothing should be done by either side to intensify the already tense situation in the region, where issues ranging from North Korea and environmental degradation to climate change, religious radicalization, and the South China Sea need to be dealt with, Majorenko said.
"The last thing we believe we need is more tension in the situation," she said.
Asked about appeals by the Taiwan government that like-minded countries work together against China's international behavior, Majorenko said the EU will continue to support Taiwan's participation in international organizations in which Taiwan has a key role to play.