Foreign minister calls for security dialogue with Japan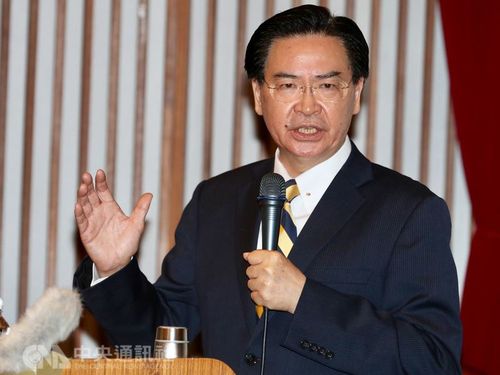 Tokyo, June 27 (CNA) Taiwan's Foreign Minister Joseph Wu (吳釗燮) has called for Japan to engage in security dialogue with Taiwan, as both countries have come under military pressure and threat from China.
In an interview with Japan's Sankei Shimbun published Wednesday, Wu called for Taiwan-Japan security dialogue, saying that ensuring security is a shared responsibility between Taiwan and Japan.
The newspaper described Wu's call as a rare move, as Taiwan has no diplomatic relations with Japan.
Wu said Taiwan looks forward to exchanges of views with Japan on ensuring security in light of increased activity by China's armed forces in the Western Pacific in recent years and the threat this poses to both countries.
Citing the close U.S.-Taiwan security cooperation as an example, Wu said the lack of diplomatic ties between Taiwan and Japan should not be a hindrance to security dialogue.
Wu also emphasized that visits to Taiwan by high-ranking officials from the U.S. administration have increased in frequency, while the administration of U.S. President Donald Trump approved in June 2017 the sale of US$1.42 billion-worth of arms sales to Taiwan.
The Sankei Shimbun report said that after the United States cut official diplomatic ties with Taiwan in 1979, then-U.S. President Jimmy Carter signed the Taiwan Relations Act (TRA) into law later that year, laying the legal foundation for security talks between the two countries.
In addition, there have been U.S. military attaches assigned to the American Institute in Taiwan's (AIT) Taipei office since 2005, according to the newspaper.
In contrast, after Japan ended official diplomatic relations with Taiwan in 1972, there has been a lack of legal foundation for exchanges between the two countries, the newspaper noted, adding that with the Taiwan-Japan unofficial relations, there has been only one retired Japanese defense official assigned to the Taipei office of the Japan-Taiwan Exchange Association, Japan's de facto embassy in Taiwan, it said.