Taiwan prioritizing clean government to draw investors: President Tsai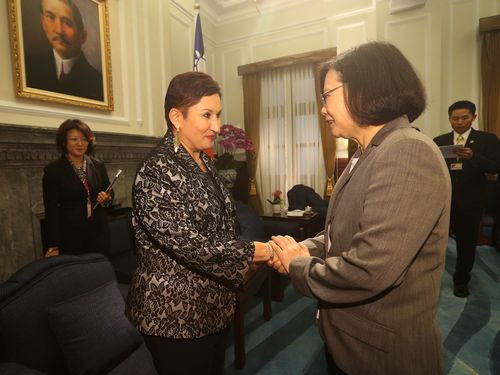 Taipei, April 24 (CNA) President Tsai Ing-wen (蔡英文) said Tuesday that Taiwan is giving priority to wiping out corruption, not only to protect people's rights but also to create an attractive environment for investors.
Speaking with a visiting delegation from allied Central American countries, Tsai said there is a possibility of opening up exchanges between Taiwan and its allies in that region on the issue of dealing with corruption.
A clean and transparent government is closely linked to a country's attraction as an investment destination, which is why Taiwan is prioritizing its efforts to crack down on corruption, Tsai told the delegation from anti-corruption and judicial agencies in their countries.
She said Taiwan's efforts in that regard included establishing an Agency Against Corruption and passing an act to voluntarily ratify the United Nations Convention Against Corruption.
As result, Taiwan is now ranked 29th on a global list of the least corrupt countries in the world, Tsai said, citing the latest corruption perception index issued by Transparency International, a Germany-based international coalition against corruption.
Taiwan will continue its efforts to fight corruption in order to protect its people's rights and become more attractive to investors, she said.