Government welcomes news of Trump's Pentagon nomination: MOFA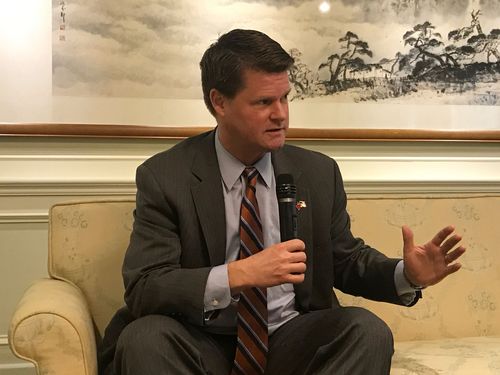 Taipei, Oct. 28 (CNA) The Ministry of Foreign Affairs (MOFA) welcomed news from the White House that U.S. President Donald Trump intends to nominate Randall Schriver as assistant secretary of defense for Asian and Pacific affairs, a MOFA spokesman said Saturday.
Andrew Lee (李憲章) expressed MOFA's hopes of working with Schriver, who the White House revealed Friday is Trump's pick for the post.
Schriver has a deep understanding of the Asia Pacific and Taiwan, having visited the country multiple times, Lee noted, adding that MOFA is looking forward to the boosting of bilateral relations with Schriver's appointment.
The Ministry of National Defense also expressed a positive outlook regarding Schriver's appointment, saying that it will be happy with any appointment that can help U.S.-Taiwan exchanges and cooperation.
The news has been received favorably by Taiwan's two major parties. Ruling Democratic Progressive Party Legislator Wang Ting-yu (王定宇) called it "good news" for U.S.-Taiwan relations, while opposition Kuomintang Legislator Chiang Chi-chen (江啟臣) said that Schriver's appointment will help Trump with his Asia-Pacific strategy.
Schriver, who is president and CEO of U.S. think tank Project 2049 Institute, previously served as deputy assistant secretary of state for East Asian and Pacific Affairs from 2003 to 2005.
He is seen as an advocate for Taiwan who has on many occassions talked about the Taiwan Relations Act and the Six Assurances, emphasizing a commitment to Taiwan's security.