Prosecutors find negligence in Navy's mistaken missile launch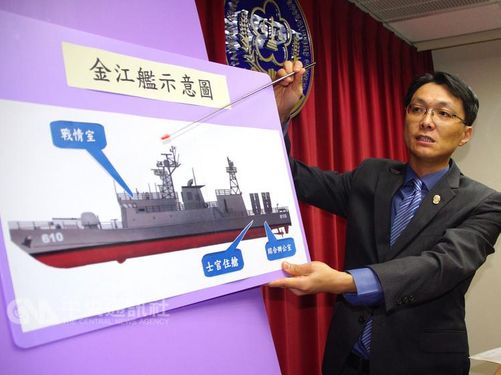 Kaohsiung, Aug. 29 (CNA) The Navy's mistaken launch of a missile that killed a fisherman on July 1 was caused by officer negligence, the Kaohsiung District Prosecutors Office said Monday.
Prosecutors in Kaohsiung indicted three naval officers involved in the missile launch for negligence, citing their failure to follow protocol despite the training they had received on operating missile systems.
Kao Chia-chun (高嘉駿), a petty officer second class who fired a Hsiung Feng III anti-ship missile from a 500-ton Jin Jiang-class corvette docked at a naval base in Kaohsiung ahead of a scheduled exercise, was indicted under the Criminal Code for negligence in causing death and injury while on duty.
He was also charged under the Criminal Code of the Armed Forces for causing the loss of a missile.
The accidentally fired missile traveled northwest and ripped through the fishing boat "Hsiang Li Sheng" 40 nautical miles away in waters near Penghu County, killing its captain Huang Wen-chung (黃文忠).
Huang's son and two other crew members, one from Vietnam and the other from the Philippines, suffered minor injuries in the accident.
Kao conducting tests ahead of the exercise without the required presence of a supervisor and failed to notice that some missiles were not connected to a simulation device used to stop a missile from actually being fired, prosecutors alleged.
As he was preparing for the exercise, Kao launched two missiles simultaneously, prosecutors said, and one of them was stopped by the simulation device while the other was fired.
The incident occurred even though Kao had three years of training in missile operations, prosecutors said.
Of the charges, the crime of causing death while being on duty carries the heaviest penalty -- a maximum five-year jail sentence and a maximum fine of NT$3,000 (US$94.42).
Prosecutors said they found no evidence of the fatal launch being intentional, and they accepted Kao's claim of being nervous and sleep-deprived ahead of his first onboard exercise.
Kao's supervisor, Petty Officer Chen Ming-hsiu (陳銘修), and Lieutenant Hsu Po-wei (許博為), who was in charge of supervising the weapons on the naval vessel, were indicted for neglecting their duties as government employees and causing damage to others as a result.
The crime carries a prison term of three to 10 years.
Chen was found negligent because he connected four missiles online despite there only being two simulation devices on board for the exercise, and because he left Kao alone in the operations room for five to seven minutes, when the missile was launched, they said.
Both Kao and Chen passed lie-detector tests, prosecutors added.
Hsu was found to have failed in his duties because he allowed four missiles to be loaded online even though the planned exercise required a simulated launch of only one missile.
The drill was to have military personnel carry out all of the procedures of a launch without actually firing the missile.
In addition, Hsu did not stay in the operations room as a supervisor as required when the missile system was in combat mode or instruct Chen or others to do so, the prosecutors said.
(By Chang Che-fon and Kay Liu)enditem/ls