President, premier call emergency meetings in wake of missile blunder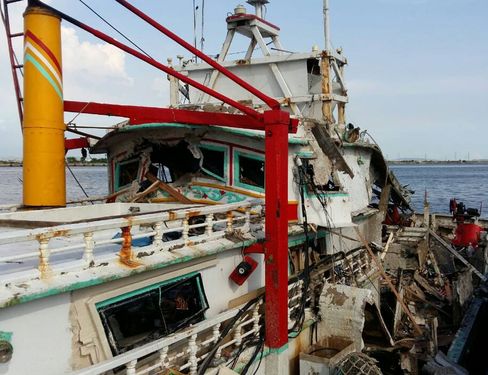 Taipei, July 2 (CNA) Two Navy non-commissioned officers involved in the accidental launch of a anti-ship missile were released early Saturday on bail as both the president and the premier prepared to call emergency meetings to manage the fallout of the unprecedented incident.
Kao Chia-chun (高嘉駿), a petty officer said to be the one who fired the missile, and Chen Ming-hsiu (陳銘修), a chief petty officer who reportedly left Kao alone in the middle of a supposedly simulated firing procedure, were released on a NT$300,000 (US$9,307) bail after being questioned at the Kaohsuing District Prosecutors' Office overnight.
Their two superior officers who had also been questioned by prosecutors were also set free pending further investigation. They are Lt. Cmdr. Lin Po-tse (林伯澤), commanding officer of the Navy's 500-ton Chinchiang-class corvette, and Lt. Junior Grade Hsu Po-wei (許博為), the officer responsible for the ship's weapon systems.
Kao and Chen face charges of causing death and injuries due to negligence when performing their duties under the Criminal Code. They are also likely to be indicted under the Criminal Code of the Armed Forces for damaging equipment or weapons intended for combat.
A fisherman from Kaohsiung was killed when his boat operating in waters off the Penghu islands in the Taiwan Strait was hit by the Hsiung Feng III supersonic missile and three others on board sustained non-life threatening injuries.
The incident involving one of Taiwan's most advanced weapons shocked the nation, with President Tsai Ing-wen (蔡英文) preparing to call a National Security Council (NSC) meeting as soon as she arrives back in Taiwan in the afternoon after a visit to Latin America.
Presidential Office Spokesman Alex Huang (黃重諺) said that, at the meeting, the president will be briefed by NSC and Ministry of National Defense (MND) officials on the incident.
On Saturday morning, Premier Lin Chuan (林全) will call a meeting with officials from the MND, the Mainland Affairs Council and the Ministry of Foreign Affairs in order to learn more about the facts of the missile incident and to discuss possible next steps, according to Cabinet Spokesman Tung Chen-yuan (童振源).
On Friday, a top Chinese official responsible for cross-Taiwan Strait relations demanded an explanation on what had actually happened and said that the incident had "a serious impact".
The missile incident occurred on the day when the Communist Party of China was celebrating its 95th founding anniversary and when cross-strait ties were cooling after eight years of warm relations under President Ma Ying-jeou (馬英九), whose Kuomintang party lost power to Tsai's Democratic Progressive Party in elections held in January.