Accidental firing of missile likely due to human error: Navy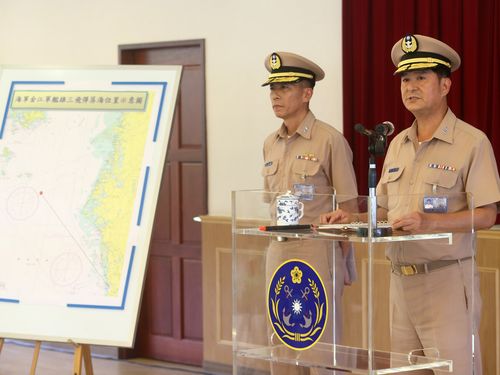 Taipei, July 1 (CNA) The Republic of China (Taiwan) Navy said that the accidental firing of an anti-ship missile from one of its Chinchiang-class corvettes in a Kaohsiung naval base Friday was most likely caused by human error.
"Initial information showed that the operator(s) did not follow standard procedure" for testing military equipment during a drill, Navy Chief of Staff Vice Admiral Mei Chia-shu (梅家樹) said at a press conference.
He said the Hsiung Feng III supersonic missile was launched by mistake from the Chinchiang (金江號, PGG-610), which was docked at Zuoying Military Harbor in Kaohsiung at the time.
The missile landed some 40 nautical miles from the harbor, more than two minutes after its accidental launch during a simulated exercise, Mei said.
A chart provided by the navy showed that the simulated target was in the Taiwan Strait, northwest of the harbor and southeast of the offshore county of Penghu.
The Navy Command Headquarters said earlier in the day that the missile fell into the sea at 8:40 a.m.
After the incident, the navy sent a helicopter to the area to make sure the missile had not caused any harm, he said. Other navy vessels were also dispatched to the area to help with the search, he said.
It has been reported, however, that there was an "explosion" on a fishing boat in the Taiwan Strait around the same time as the missile accident Friday, killing its captain and injuring three others.
Mei said the incident will be investigated and those found responsible will be penalized.
Mei declined to answer questions about the standard operating procedure for simulation of a Hsiung Feng III missile launch, saying he could not disclose classified information.
He said the navy did not notify Chinese authorities of the incident as it does not have contacts with the other side of the Taiwan Strait. The navy instead reported the incident to the higher authorities in Taiwan responsible for national security, he said.
When asked whether the missile may have been launched intentionally, Mei said the investigation will look at all possibilities.
He stressed, however, that Friday's exercise was a regular testing of military equipment.
(By Lu Hsin-hui and Christie Chen)ENDITEM/pc
Update: ●Taiwan missile mishap strikes fishing boat, kills captain
Related:●Missile fired by mistake did not cross Taiwan Strait median line: Navy