Simon Chang appointed as new premier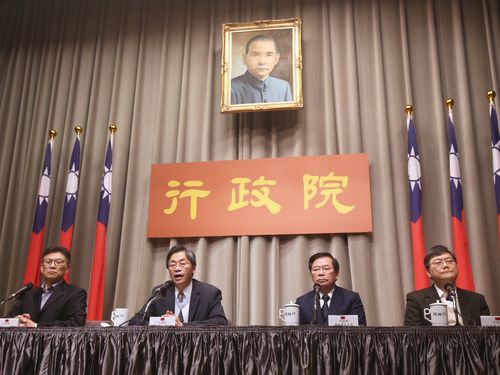 Taipei, Jan. 25 (CNA) President Ma Ying-jeou (馬英九) has appointed Simon Chang (張善政) as the new premier after approving the resignation of former Premier Mao Chi-kuo (毛治國), according to Presidential Office spokesman Charles Chen (陳以信) Monday.
Based on the principle of respecting the legislative majority, the president hopes the appointment of Chang, Mao's deputy, can facilitate a smooth transfer of power, which will see the Democratic Progressive Party (DPP) control 68 seats in the 113-member Legislature, Chen said.
Ma had attempted to call president-elect Tsai Ing-wen (蔡英文) to consult with her on the selection of the new premier, but was not able to reach her because Tsai was busy at the time, Chen said.
Presidential Office Secretary-General Tseng Yung-chuan (曾永權) then acted on Ma's behalf to discuss the issue with former DPP Secretary-General Lin Hsi-yao (林錫耀), who represented Tsai, according to Chen.
Lin told Tseng that Tsai respects Ma's decision and has no comment on it, Chen said.
Chang, who is not affiliated with any political party, said later in a press conference that he will work with the new legislature, which will be sworn in on Feb. 1, during the transitional period.
Chang said he will appoint Minister of the National Development Council Duh Tyzz-jiun (杜紫軍) as vice premier, whose position will be filled by Lin Chu-chia (林祖嘉), deputy minister of the Mainland Affairs Council (MAC).
Financial Supervisory Commission Vice Chairwoman Jennifer Wang (王儷玲) will be appointed as head of the commission, while the Council of Agriculture will be headed by its current vice minister Chen Chi-ching (陳志清).
Chang, 61, was the Minister of Science and Technology before he was named vice premier in 2014.
Mao Chi-kuo led his Cabinet members to resign en masse last week in the wake of the Jan. 16 presidential and legislative elections, which saw DPP's Tsai grab 56 percent of the vote to win the presidency.
Mao had insisted on leaving the post despite Ma's hope that he would stay on until the president could persuade the DPP to form a new Cabinet. Mao has since taken leave with Chang now acting on his behalf.
(By Tang Pei-chun and Lee Hsin-Yin)ENDITEM/ke