Despite improved ties with China, Taiwan won't let guard down: Ma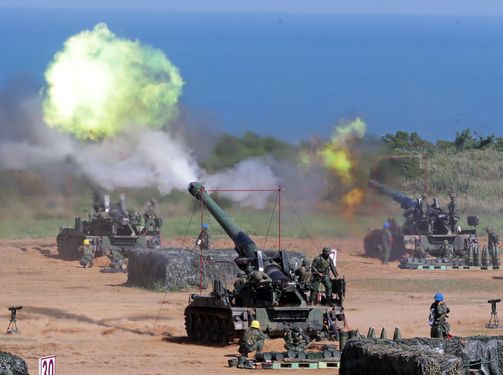 Taipei, Sept. 10 (CNA) President Ma Ying-jeou (馬英九) said Thursday that Taiwan will not let its guard down and will remain committed to maintaining its self-defense capabilities, even though ties across the Taiwan Strait have improved to the point that they are the most stable in 66 years.
He made the remarks after observing artillery forces in an anti-amphibious landing exercise earlier in the day that simulated an attempt by Chinese forces to land on the shores of Hsinchu in northern Taiwan, as part of the annual Han Kuang series of military exercises.
While addressing the 800 participating soldiers and officers, Ma said that since he took office in May 2008, his administration has been pushing for peaceful development in the Taiwan Strait.
Although he described cross-strait relations as the most stable in 66 years, he said Taiwan will not let its guard down in terms of national defense.
Taiwan will continue to bolster its defense capabilities in line with the concept of preparing for war but not seeking war, he said.
The president also talked about the military's shift to an all- volunteer force, lauding the results of the recruitment of volunteer soldiers over the past two years and more volunteer soldiers who have decided to extend their time in the military.
Ma, in his capacity as commander-in-chief of the country's armed forces, inspected the drill, which incorporated 18 8-inch M110 self-propelled howitzers and 20 M109 self-propelled 155mm howitzers.
A total of 304 shells were fired during the drill designed to simulate a scenario of fending off enemy craft attempting to make a landing. The drill, held at a military front in Hsinchu County, was open to the media.
The president lauded the participating soldiers and officers' performance, describing the drill as having been conducted successfully.
Each of the participating howitzers fired eight shells, said Col. Chou Kuo-chien (周國健), who was responsible for the specifics of the drill.
Commenting on the firing of one of the howitzers, which was about two seconds later than the others, Chou told reporters it was because the condition of the shell itself and praised the soldier's quick response that soon allowed the shell to be fired.
Noting that the soldiers and officers also provided disaster relief assistance when Typhoon Soudelor devastated Taiwan in August, Ma praised them as a force that "can conduct rescues in time of peace and can fight in time of war."
Thursday's drill was part of the second stage of the "Han Kuang 31" series of military exercises taking place Sept. 7-11, simulating an attack from China.
The war games include live-fire drills and see the Army, Navy and Air Force test their joint operations in the face of the continued military threat from China. They follow computer-aided war games held in May.
(By Elaine Hou)ENDITEM/J