Israeli diplomat celebrates bilateral relations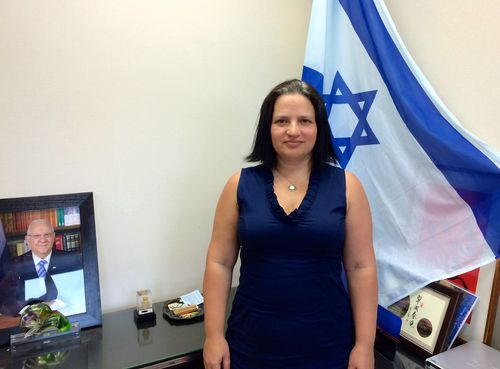 Taipei, Aug. 2 (CNA) In July, Simona Halperin, who recently ended her five-year tenure as Israel's top diplomat in Taiwan, was awarded medals by the Ministry of Foreign Affairs and Ministry of Economic Affairs in recognition of her hard work in promoting Israel-Taiwan relations.
On July 8, she received the Medal of Economic Contribution from Minister of Economics John Deng (鄧振中) for promoting official and private bilateral trade.
It was one of the most "emotional and touching moments" of her time in Taiwan, Halperin told CNA in an interview in Taipei before returning to Israel on July 30.
"It's in recognition of the efforts made over five years promoting economic and trade relations between Taiwan and Israel," said Halperin, who assumed duties as head of the Israel Economic and Cultural Office in Taipei in August 2010.
Since 2010, bilateral trade has increased by 9 percent, reaching US$1.33 billion in 2014, the Israeli office said. Noting the agreement on bilateral cooperation in industrial research and development signed in April, Halperin said she expected the pact to take Israel-Taiwan cooperation to "a whole new level" in three to five years.
However, this was just one of the many agreements and memorandums of understanding signed between the two countries during Halperin's tenure as Israel's top envoy.
These include agreements covering aviation, tourism, science and technology, customs affairs, environmental protection, education, sports and youth exchanges.
Of these, the most notable have been the 2012 agreement on air transportation, which paved the way for direct flights between Taiwan and Israel, and a 2011 reciprocal visa-free program for Taiwanese and Israeli travelers for short-term visits.
The number of Taiwanese tourist visiting Israel rose from 3,000 in 2010 to 6,300 in 2014, Halperin said, citing official statistics.
In an effort to promote tourism in Israel, Halperin approached Taiwanese travel agencies and discussed the possibility of launching promotional programs.
Most Taiwanese tourists to Israel visit religious sites, but there is much more to explore, Halperin said, with diverse cultures and natural landscapes, from beautiful beaches to deserts.
To promote Taiwan in Israel, a TV production team from a renowned Israeli program visited Taiwan in June, filming various examples of Taiwanese cuisine as they traveled around the island and explored the beauty of the country, she said.
The show will also introduce Taiwan to Israeli people, said Halperin, who was behind the project.
Over the past five years, Halperin has also worked hard to expand bilateral exchanges in water technology and life sciences.
However, her efforts have gone beyond the promotion of bilateral exchanges. For example, in the wake of the June 27 explosion at a water park in New Taipei, Halperin contacted the Taiwan government and offered to send Israeli experts to provide assistance. Late last month, she donated skin graft meshers to two hospitals in Taipei where some of the burn victims are being treated.
The incident left nearly 500 people injured and has so far resulted in 10 deaths.
Looking back at her time in Taiwan, Halperin said one of the most unforgettable experiences was hosting an Israeli Independence Day celebration in 2011.
The event was held in cooperation with the Taiwanese charity group Buddhist Compassion Relief Tzu Chi Foundation to help raise funds for survivors of a powerful earthquake and tsunami in northeastern Japan in March 2011.
A total of NT$21 million was raised at the event, which was used to fund Tzu Chi's relief operations in disaster areas, she added.
"It was a remarkable event," Halperin said. "The people of Israel and the people of Taiwan joined forces to help in a situation of dire humanitarian need."
Halperin's previous overseas postings include stints in South Korea and the European Union. She will now take up a new post at the Israeli Foreign Ministry.
Expressing her willingness to speak up for Taiwan if necessary, Halperin said she would also like to come back for a visit in the future.
"I hope very much to continue my close ties and friendship with Taiwan," she said, adding that she will always be a friend of Taiwan.
(By Elaine Hou)ENDITEM/AW