Official urges Japan to check food labeling before involving WTO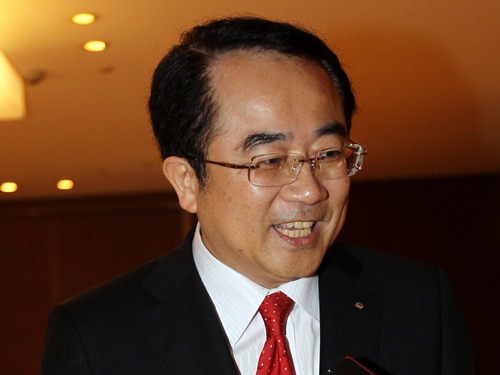 Taipei, May 12 (CNA) Japan should check false labeling problems that have given rise to Taiwan's decision to impose tighter regulations on imported Japanese food before taking the case to the World Trade Organization (WTO), the head of an agency dealing with Japan said Tuesday.
Lee Chia-chin (李嘉進), chairman of the Association of East Asian Relations (亞東關係協會), was responding to remarks made at a news conference earlier in the day by Yoshimasa Hayahsi, Japan's minister of agriculture, forestry and fisheries, that Japan does not rule out the possibility of taking the case to the WTO.
Lee said the government came up with the stricter measures after it was discovered in March that food items from five nuclear-affected prefectures had made their way illegally into Taiwan and that their labels had been tampered with.
After the meltdown of the Fukushima Daiichi Nuclear Power Plant in the wake of Japan's devastating earthquake of March 11, 2011, Taiwan banned foods from the five prefectures -- Fukushima, Ibaraki, Tochigi, Gunma and Chiba.
"Taiwan cannot accept this (the false labeling) and thinks Japan should get to the bottom of the matter," Lee said.
But as Japan has not accepted the suggestions for investigations, Taiwan's Legislature has demanded that Japanese food imports should have official certification.
President Ma Ying-jeou, while receiving a delegation of Japanese lawmakers, also stressed that the matter should be probed and that control measures should be reviewed to prevent any recurrence of the incident.
Only by doing so will Japan have the legitimacy to ask Taiwan to lift the stricter regulations.
Under the new regulations that will take effect May 15, importers of Japanese food products will be required to present certificates of origin to prove that the imports are not from any of the five prefectures. For some imports such as tea, baby food, and dairy and aquatic products, radiation inspection certificates will also be required.
Lee noted that Taiwan is a major consumer of Japanese agricultural products and said it can certainly ask Japan to heed its food safety concerns.
"After Japan has fully investigated the false labeling, it will certainly lessen the pressure to impose stricter regulations," Lee said.
He said he would advise Japan not to threaten to take the case to the WTO.
With such friendly bilateral relations between the two sides, "we can talk about everything, but taking the case to the WTO could sour bilateral ties," he said.
(By Tang Pei-chun and Lilian Wu) ENDITEM/J
Related:●New rules on Japanese food imports to be enforced as planned