DPP's Cheng Wen-tsan scores upset victory in Taoyuan election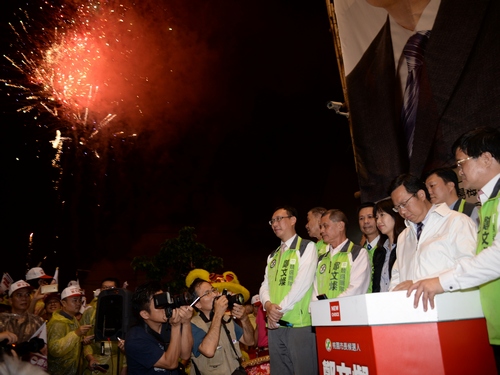 (Click HERE for our special election site)
Taipei, Nov. 19 (CNA) Democratic Progressive Party (DPP) Cheng Wen-tsan scored an upset victory in the race to become the first mayor of the newly upgraded Taoyuan special municipality, ousting the Kuomintang (KMT) incumbent.
Cheng, 47, who once led the now-defunct Government Information Office when the DPP was in power in the 2000s, garnered 492,414 votes, or 51 percent, to beat Wu Chih-yang of the KMT, who had 463,133 votes, or 47.97 percent of the votes.
Although Cheng trailed Wu in public opinion polls throughout the race, he steadily established connections with the grassroots and focused on his campaign theme of integrity and taking care of the underpriviledged.
His campaign platforms included giving a subsidy of NT$30,000 for newborn children, free health insurance premiums for seniors, and free breakfasts for elementary school children, and building 20,000 social housing units for rent only.
Cheng, who lost 15 kilograms during the race, told his supporters that he was able to "accomplish the impossible" after winning the traditional stronghold of the pro-KMT camp.
During the last election in Taoyuan in 2009, the DPP ran into trouble during the nomination process and then-party Chairperson Tsai Ing-wen recruited Cheng to represent the party just two months before the election.
Cheng was competitive, picking up 45.7 percent of the vote, but he lost to Wu, who had 52.2 percent.
Wu hails from a political family, being son of KMT Honorary Chairman Wu Poh-hsiung who himself is a political heavyweight.
This year, however, the lackluster performance of the central government and a bribery scandal in late May involving Wu's former deputy, Yeh Shih-wen, in a housing project gave Cheng the chance to seize on the public's yearning for "change."
In comparison, Wu, who had enjoyed high approval ratings prior to the election and led in the polls, centered his campaign around the theme of "performance," but his team showed little sense of urgency and may have been overconfident.
A major reason for the gap between the public opinion polls and the election results may have been the addition of 130,000 eligible voters from the previous election in 2009, most of whom were first-time voters.
Those new voters made a difference this year, because a total of 965,000 people cast ballots in the race for Taoyuan chief, compared with only 758,000 in 2009.
Many other factors contributed to Wu's defeat, including underestimating the depth of people's feelings about the general anti-KMT environment and the effect of the rise of the "Internet generation," which is considered favorable to the DPP.