New Taipei's Chu vows to reflect after close call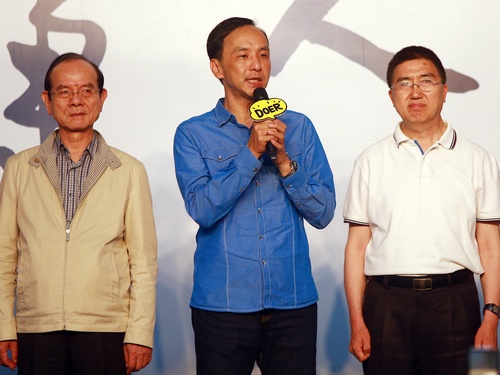 (Click HERE for our special election site)
Taipei, Nov. 29 (CNA) New Taipei Mayor Eric Chu won a very narrow victory over his rival Saturday, a near-loss he said has allowed him to "hear the people's voices" as a call for reflection.
Chu, a rising star in the Kuomintang (KMT), garnered 50.06 percent of votes -- 959,302, according to the Central Election Commission -- just edging out his challenger, Yu Shyi-kun of the Democratic Progressive Party (DPP), who managed 48.78 percent with 934,774 votes.
New Taipei has 3,156,402 eligible voters.
The win makes Chu the only KMT candidate to have won a race for a special municipality out of a total of six.
His victory speech took a somber tone. Chu offered gratitude to those "who were willing to come out to vote for me. But at the same time, we will face the outcome of the elections, including the across-the-board crushing defeat for the KMT, with a heavy heart."
The DPP scored 13 wins in the 22 city and county executive positions up for grabs, a huge increase from the six it held prior to the election.
Outside of New Taipei, the KMT came away with only five counties and no cities.
Chu also commended Yu, a former premier, saying that his rival campaigned hard and offered "valuable insights" that he would accept.
"The 930,000-odd voters that supported my rival over me and the greater number of voters (than in the last election) who chose not to take part in this election or were unwilling to come to express support, whatever the reason -- as the incumbent mayor, my city government team and everyone else will certainly review (this election) with humility."
"The turnout rate this time was only 61.6 percent, a whopping decrease of 10 percent from the previous election, meaning that 300,000 voters abstained from voting," Chu added.
In his first election to New Taipei mayor in 2010, Chu collected 1.11 million votes.
"Facing squarely the choice of the people" is a part of democracy, he said.
"We have heard the angry voices of the people. Local and central governments have to reflect on ourselves if we want the people to give us a chance next time," he said.
"In addition, we want to reflect thoroughly as to why many in the new generation cannot accept our policies or do not approve of us," he said of widespread youth disenchantment toward the ruling party.
"This is not a generational gap, but rather our lack of changing with the times and doing a good job at making reforms," he said.
Chu spoke after Premier Jiang Yi-huah resigned to take responsibility for the KMT defeat while President Ma Ying-jeou, who is also KMT chairman, apologized to supporters and vowed to continue party reforms and liberalization policies.